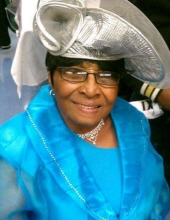 Obituary for Mother Lillian Holmes
Who can find a virtuous woman? For her price is far above rubies. Proverbs 31:10

Mother Lillian Holmes passed away on Tuesday, February 6, 2018 at her home, surrounded by her loving family at age 88 years. Lillian was born in Helena, Arkansas January 9, 1930 to her wonderful parents the late Joe and Beatrice Thomas.

After leaving Arkansas Lillian met and was united in marriage to Jake Holmes on May 15, 1968 in Saginaw, Michigan. He preceded her in death on February 26, 1998. They were married for 30 blissful years and raised fourteen children and five grandchildren.

Mother Holmes was very industrious with her hands in caring for those she loved dearly. She provided various tools to her children and family which enabled them to grow into productive individuals. Mother Holmes was a faithful Church Mother and member of Joshua's Way Ministries, under the pastorate of her grandson, Pastor Lerone Clement. Prior to Pastor Lerone accepting the call to the pastorate from God, Mother Holmes was a devoted member at Emmanuel Church of Deliverance, under the leadership of Pastor Provis Carter. She devoted her time to praise, prayer, worship and sharing the gospel of Jesus Christ with others. Mother had an unwavering faith in God. She was involved in church work for many years, because she understood the Bible verse in James 1:22 (Do not deceive yourselves by just listening to his word; instead, put it into practice.)

Mother cherished her family; she knew each person was a gift from God and unique in their own way. She gave us all such courage and hope and reminded us of the preciousness of life. Mother touched the lives of many people with her smile, kiss and generosity. She made sure that her family understood she had enough love for each one of them. She would often say, "I love everyone the same and I don't love no one better than the other". When there was a disagreement or an issue Mother would say, "I'm going to put it in the hands of the Lord".

She was warm and kind and always welcomed others to her home to just sit or to enjoy a wonderful meal. Mother was an excellent cook and enjoyed preparing meals for her family and friends. She would spend hours sitting in her favorite chair while cuddling close to those she loved so much. She enjoyed church music and reading Bible stories. Her home was always filled with love, laughter and children.

Her precious memories will be cherished by her affectionate children; Lola Green, Frank Clement Sr., Annie Smith, Elizabeth (Willie) Acklen, Terry Holmes, Joe Holmes, Deborah Holmes, Betty Holmes, Barbara (Aaron) Mitchell, Deidre (Roman) Johnson, Jennifer (Joe) Chappin, Lerone Clement, Lonnie Smith Jr., Ronald (Vanessa) Smith Sr. and Donald Smith Sr., all of Saginaw, Michigan; Timothy Shorty of Memphis, Tennessee; eighty-seven caring grandchildren; fifty-nine wonderful great-grandchildren; twenty-two adorable great-great-grandchildren; two loving sisters, Cora Webb and Dorothy (John) Moore all of Saginaw, Michigan; one sister-in-law, Rosa E. Wright of Bainbridge, Georgia; a special friend of many years, Mother Fannie Mae Carter; many nieces, nephews, cousins, other relatives and friends.

In addition to her husband, Jake Holmes, she was preceded in death by one daughter, Diane Burton; two sons, Jerome Clement and Tyrone Clement; one granddaughter,Tequia Holmes; one grandson, Kevin Clement; three sisters, Vonice McAfee, Pecolia Thomas, Marvella Thomas; three brothers, Joe Thomas Jr., Eugene Thomas, Louis Thomas; six nephews and one niece.

The family would like to express special thanks to American Home Health Care Hospice staff, and Ivan E. Phillips and the staff of Paradise Funeral Chapel.


Previous Events
Visitation
Paradise Funeral Chapel
3100 South Washington Ave.
Saginaw, Michigan 48601
Family Hour
Paradise Funeral Chapel
3100 South Washington Ave.
Saginaw, Michigan 48601
Celebration of Life
New Mt. Calvary Baptist Church
3610 Russell Street
Saginaw, Michigan 48601
Officiating: Pastor Lerone Clement, Joshua's Way Ministries - Host Pastor: Alfred Harris, Jr.
Cemetery Details
Location
Forest Lawn Cemetery
3210 South Washington Avenue
Saginaw, Michigan 48601