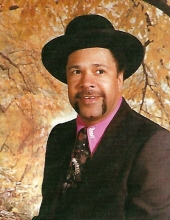 Obituary for Carmel "Peso" Sanders
Carmel "Peso" Sanders was called home on August 21, 2018 at the age of 75. He was born to Fred and Georgia B. Sanders on July 1, 1943 in Montgomery, West Virginia. He retired from General Motors Saginaw Malleable Iron after thrity-five years of service.

Peso was a man who loved life and living it to the fullest. He loved to help those in need. He was kind, caring, giving, consistent and loving (in his own way). He loved his family and the finer things in life; clothing, shoes (cowboy boots), jewelry and cars. He was a person that made you feel honored if he considered you to be a friend. He was a man of few words. He loved riding bikes with kids in the neighborhood and friends. He always made sure that every kid in the neighborhood had a bike in good shape.

Peso was predeceased by his parents, Fred and Georgia B. Sanders; three brothers, Houston, Willie, Gaylord Sanders; sister, Ruth Bullock; aunt, Callie Montgomery; niece, Remeldia Sanders; a host of family and dear friends.

He leaves to cherish his memory, Rondell, Rachel, Ryan and Rhys Sherman, Belleville, Michigan; sister, Deetra Robinson, Saginaw, Michigan; sisters-in-law, Lila Sanders, Las Vegas, Nevada, Winnie Sanders, Saginaw, Michigan; niece, Deidrea Sanders, Saginaw, Michigan; nephew, Willard (Sandra) Sanders, Saginaw, Michigan; a host of dear friends, including Buddy (Evelyn) Moten, Jerome House, Maurice Washington, Old Man Brumell, Saginaw, Michigan, Margaret Bowen, Coralville, Iowa, Shirley Flowers, Baton Rouge, Louisiana, T.W. Mason, Grand Rapids, Michigan and many others.


Previous Events
Family Hour
Paradise Funeral Chapel
3100 South Washington Ave.
Saginaw, Michigan 48601
Memorial Service
Paradise Funeral Chapel
3100 South Washington Ave.
Saginaw, Michigan 48601