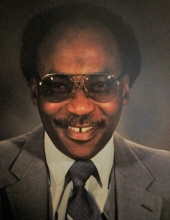 Obituary for John Crawford
Mr. John Crawford was born May 12, 1946 in Newark, New Jersey to Earl Peacock and Goldie Crawford. He was raised in Newark by his late grandmother, Julia Glenn. He attended Oliver Street Elementary School and graduated from East Side High School in Newark, New Jersey.

John, also known as "Hippie" to his friends and loved ones of Newark, moved to Michigan and settled in Saginaw. While in Saginaw, he worked for the Board of Education until he retired.

John had a great love for crossword puzzles, cooking, and reading cookbooks. He was an avid writer and often wrote to the local paper and the White House.

He leaves to celebrate his life wife, Sally Kearns; two daughters, Kimberly Walker, Felicia Soldrich; son, John Crawford, Jr.; grandchildren, Jaheim Hamilton, Omarion Walker, Chardonnay Walker, Charles Walker, IV, all of Saginaw, Michigan, Cierra Soldrich, Allentown, Pennsylvania.

The family would like to express special thanks to Marlyn and Connie Reeves and the staff of St. Mary's Hospital.