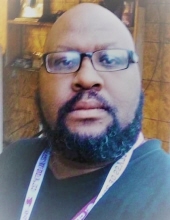 Obituary for Demetrics Washington
Demetrics Dion Lamar Adams Washington, Sr. was born May 16, 1975 in Saginaw, Michigan to Christopher Lamar Adams and LaDawn Phillips.

Baptized as a child, Demetrics accepted Christ at an early age and was a member of Holy Communion Church. He was a student of Saginaw Public Schools, attending Central Junior High and Saginaw High School, "Class of 1993." He was an excellent cook and cheese was his favorite ingredient. According to Poochie, his nickname from birth, cheese made everything better.

Demetrics loved dogs and he loved cartoons, especially Dragon Ball Z. Yet, neither of those compared to the love he had for his family. Poochie enjoyed being around his family more than anything. He loved wrestling with his brothers and nephews and having a good time with his nieces. He was a good person. A happy person. A man who loved hard without hesitation. He constantly expressed his love for his family and they never tired of hearing it. Poochie may be gone but he will never be forgotten.

On Saturday, July 21, 2018 Demetrics transitioned to his heavenly home. He was preceded in death by his grandparents, Elbert Washington and Geneva Powell.

He leaves to celebrate his life mother, LaDawn Phillips; father, Christopher Lamar (Linda) Adams; two daughters, LaDawn Morris, Charisma (Tony) Hightower; son, Demetrics Dion Lamar Adams Washington, Jr.; grandchildren, Lamya Williams, Sonny and Isaiah Hightower; sisters, Tamira Adams, Crystal Reeves; brothers, Tyree (Jennifer), Edwin, Damion, Donquell (Savannah), Channing (Crystal) Washington, Adrian Redeemer, Dequarris Beasley, Ralph Curry, Gregory Hickman; special nieces, ShDay, Ayanna, Cianna, Te'anna, Sophia Washington; special nephews, Tyree Jr., Donquell Jr., Major, Channing Jr., Ty'Fine, Elijah Washington; godson, Darius Blakely; many other relatives and friends, including special cousin, Anthony Williams.

The family wishes to express a special thank you to the Galvin and Adams Families, Donquell Washington and Gregory Hickman.
Previous Events
Memorial Service
Paradise Funeral Chapel
3100 South Washington Ave.
Saginaw, Michigan 48601