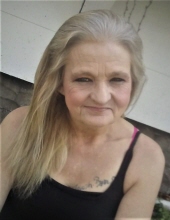 Obituary for Debra Renee Elizabeth Cherish (Lansing)
Ms. Debra Renee Elizabeth Cherish passed away Wednesday, June 27, 2018 in Lansing, Michigan. Age 57 years. She was born June 20, 1961 in Lansing, Michigan to parents, Allie and Jackie Shearer.

Debra was a lifelong resident of Lansing, Michigan. She enjoyed shopping, singing, cleaning and spending time with her kids and grandkids. Debra also love to laugh with family and friends.

She leaves to cherish her memory her daughter, Jamie Shearer; three sons, Joseph (Susan) Worden, William (Ashley) Shearer and Anthony Shearer; grandchildren, Joseph, Brandon, Gavin, Ryan, Andrew, Aiden, Elijah, Mathieus, Arianna, Annibella, Anthony, Asia and Cameron; three sisters, Melody Shultz, Mary Lee Cole and Lora Wurm; brother, Michael Shearer; nieces, Amy, Erica, Jessica, Savannah, Destinee and Sarah; nephews, Michael W., Joshua, Travis, Christopher, Michael S. and Nathan; many other relatives and friends including the love of her life, William Worden.

She was preceded in death by her son, Ryan Worden; parents, Allie and Jackie Shearer; and her sister, Betty Jo Shearer.
Previous Events
Family Hour
Paradise Funeral Chapel - Lansing
1107 East Miller Road
Lansing, Michigan 48911
Funeral Service
Paradise Funeral Chapel - Lansing
1107 East Miller Road
Lansing, Michigan 48911