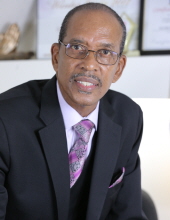 Obituary for Mitchell Lamount Nickleberry
"To be absent from the body, is to be present with the Lord." 2 Corinthians 5:8b.

Minister Mitchell Lamount Nickleberry of Saginaw, Michigan went to sleep in the Lord Wednesday, June 27, 2018 at St. Mary's of Michigan. He was born September 12, 1947 in Saginaw, Michigan to Henry H. Nickleberry and Armella Nickleberry. Mitchell served as a soldier in the US Army for two years and received an honorable discharge. He served as a soldier for Christ over thirty years.

He was the Vice-President of D&M Marketing and Publishing, Inc. and the Publisher of WORD UP Community Magazine for fifteen years; Founder of Whiterose Outreach Ministry; and Former President of Saginaw African American and Minority Business Association. Mitchell was also actively involved with community events and planning.

The heart of Mitchell's life was reaching souls for Christ, spreading the Gospel to all wherever he went. He had a passion for mentoring men and young men. He had the ability to add joy to people's lives in a very lively and comical manner. His life's testimony can be summed up in five words, "Send Me Lord, I'll Go!"

Mitchell was preceded in death by his father, the Honorable Henry H. Nickleberry; mother, Armella (Nickleberry) White; sister, Sandra K. (Will) McKinney; grandparents, Nathan and Nellie White; great-granddaughter Azhariah Lenise McCray-Laury.

He leaves to cherish his loving memory his best friend, business partner and loving wife of thirty-one years, Dorothy Jean "Dottie" Nickleberry; son, Mitchell (Bridgett) Ewing, Macomb, Michigan; six daughters, Lazita Ewing, Harrison Township, Michigan, Theressa (Christopher) Clark, Mt. Pleasant, Michigan, Nia (Kris) Seals, Orlando, Florida, Carla (Greg) Barton, Andrea Laury and Erika Marselis of Saginaw, Michigan; twenty-three grandchildren; eight great-grandchildren.

Mitchell also leaves to cherish his memory four brothers, Robert (Vickie) Nickleberry, Van Nuys, California, Harvey and Leroy Nickleberry, Henderson, Nevada, Von (Rose) Nickleberry, Saginaw, Michigan; sister, Sharon Nickleberry Detroit, Michigan; five brothers-in-law, Will McKinney, L.C. Riley, Herbert Riley of Saginaw, Michigan, James and Robert Riley, Bay City, Michigan; two sisters-in-law, Emma Eaton, Barbara Parham of Saginaw, Michigan; many, aunts, uncles, nieces, nephews and special goddaughters, Yolanda Ewing, Chicago, Illinois, Salena Ewing Detroit, Michigan, and a special friend who is as close as a brother, Michael James Buchanan.


Previous Events
Visitation
Paradise Funeral Chapel
3100 South Washington Ave.
Saginaw, Michigan 48601
Family Hour
Paradise Funeral Chapel
3100 South Washington Ave.
Saginaw, Michigan 48601
Celebration of Life
Paradise Funeral Chapel
3100 South Washington Ave.
Saginaw, Michigan 48601
Officiating: Pastor James Snead, Greater Love Church of God in Christ
Cemetery Details
Location
Forest Lawn Cemetery
3210 South Washington Avenue
Saginaw, Michigan 48601