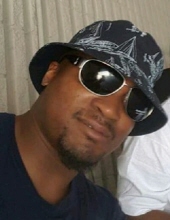 Obituary for Vince Reynolds
Vince Reynolds was born December 14, 1981 in Saginaw, Michigan to Vince Warren and Sherry Reynolds. He passed away Sunday, May 27, 2018 in Petoskey, Michigan. Age 36 years.

Vince was a long-time resident of Saginaw, Michigan. He attended Saginaw Public Schools and graduated from Washtenaw Intermediate School District. He was employed as an Asbestos and Mining Contract Supervisor for Local 1098 of Michigan. Vince was very outgoing and energetic. He loved dressing up, sports, music and traveling. One of the best things about Vince was his smile. He could light up any room with those pearly whites. Vince was a genuine person who loved fiercely. He had a way with people and his spirit could turn the darkest day bright. His heart was big and he was consistently encouraging others. He loved in such a way that if anyone spoke badly about him, no one would believe it. He was a man of his word and his reputation and character were above reproach. Over the last eight months, Vince was intentionally making decisions to become a better man for his sons and family. Family was always his priority but he wanted a better life for himself and his children, and he was consciously moving in a positive direction. Vince will forever be etched in our hearts and memories – especially that smile.

Preceding Vince in death were his great-grandparents, Jerome Reynolds, Juanita Reynolds, Darice Reynolds, A.C. Taylor, Isom Reynolds; aunts, Tracy Erby, Juanita Reynolds; uncle, Patrick Love Reynolds.

He leaves to celebrate his life, his parents, Vince (Trina) Warren and Sherry Reynolds; two sons, Vincent Trevion Reynolds, Trentin Michael Zook; four brothers, David (Latoya) Reynolds, Patrick, Simeon Reynolds, Antonio Neff; one aunt, Carla Wilson; two uncles, William, Carl Wilson; one niece, Deriona; two nephews, Chrishawn, Deacon Reynolds; a host of cousins, other relatives, and friends, including special friends Denitra Harper, Chris Cooper, and daycare baby A'erial Williams.
Events
Event Information
A private service has taken place.
Cemetery Details
Location
Forest Lawn Cemetery
3210 South Washington Avenue
Saginaw, Michigan 48601