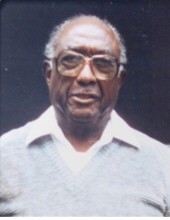 Obituary for Lester Harren (Dimondale)
Mr. Lester Harren passed away Thursday, April 26, 2018 in Dimondale, Michigan. Age 93 years. He was born on September 15, 1924 to Matthew Harren (1900-1978) and Bettie Mae Turner (1899-1970) near Laurel, Mississippi. Lester played professional baseball as a catcher in the Negro Baseball League for the Jacksonville Florida Eagles in 1946 just after being discharged from the Navy. He was traded to the Houston Eagles in late 1946 but quit and moved to Jackson, Michigan to work. He initially worked for the railroad and in construction before being hired at Goodyear where three of his uncles, Alex, Sylvania and Willie Turner worked.

Lester met and married Bettie Ruth Miller in Jackson, Michigan in 1949. He later united in matrimony with Minnie Applewhite. Both wives preceded him in death as did his parents and in 1943 his older brother Vernon.

Loved ones left to cherish his memory are his sister Rebecca Nebraska Harrington Caines of Detroit, Michigan; children, Deborah Bowman (William) and Susie "Nikki" Bynum of Lansing Michigan; Judy (Bernard); Lester Jr. (Brenda); Karen Fay, Anita, Wanda, Gerald, Myron, Jennifer, Charlisa and Tammie all of Jackson, Michigan; Brenda of Honolulu, Hawaii; Garry of Denver, Colorado and John "Sonny" (Zung) of Mason, Michigan; his first cousin Armee Thompson and good friend Willis Pryor of Jackson, Michigan; 19 grandchildren, 31 great grand children and 2 great-great grand children plus a host of other relatives and friends.
Previous Events
Family Hour
Second Baptist Church
304 E. Prospect St
Jackson, Michigan 49203
Funeral Service
Second Baptist Church
304 E. Prospect St
Jackson, Michigan 49203