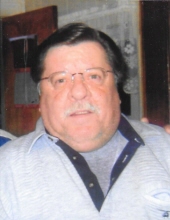 Obituary for Michael Tremblay (Lansing)
Mr. Michael Tremblay passed away after a long illness on Wednesday, April 4, 2018 at McLaren Greater Lansing Hospital in Lansing, Michigan. Age 69 years. He was born September 21, 1948 to parents, Mary and Raoul Tremblay in Lansing, Michigan.

Michael was a life long resident of Lansing. He worked for the United State Post Office as a postal carrier. He was an avid golfer and served as a ranger at the Red Cedar Golf Course. Michael loved spending time with his family and his cat, "Sam".

He leaves to cherish his memory his wife of 49 years, Barb; daughter, Tammy Tremblay; three grandchildren, Marah (Zach) DeRoover, Ashley Dehuelbes; and Joshua (Dawn) Verhelle; 12 great grandchildren; sisters, Liz (Tom) Tremblay, Carol Miller and Anna Tremblay; two brothers, Pat Tremblay, and Ray Halme; son-in-law, Rick Dehuelbes; many nieces, nephews, other relatives and friends.

He was preceded in death by his parents; daughter, Michelle Trembley on December 3, 2017; granddaughter, Misty; great granddaughter, Ellie; sister, Diane Hartman and brothers, William, David and Raoul Tremblay.
Previous Events
Family Hour
Paradise Funeral Chapel - Lansing
1107 East Miller Road
Lansing, Michigan 48911
Memorial Service
Paradise Funeral Chapel - Lansing
1107 East Miller Road
Lansing, Michigan 48911