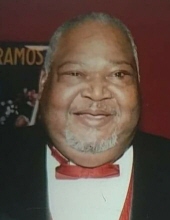 Obituary for George Drake (Lansing)
George L. Drake departed this life on Saturday, February 3, 2018 at Sparrow Hospital in Lansing, Michigan. Age 70. He was born January 14, 1948 in Memphis, Tennessee, the son of L. V. Drake and Roselee Lewis Drake. He was one of five children.

The Drake Family relocated to Lansing, Michigan where George attended and graduated from J. W. Sexton High School. George met and married Ethel Elem in June of 1970 and they were blessed to have and raise three children, Regenia, Tiffany and Gregory.

George served in the United States Army from 1968 through 1972 and was awarded the distinguished Purple Heart while serving in the Vietnam War. After his military service, George was employed by the State of Michigan in the Department of Corrections; he was well known as "Sergeant Drake."

Upon retiring from the State, George became an avid fisherman and cook. He could be found most summer weekends on the banks of the Grand River in Lansing or fishing in Canada. He loved to entertain his family and friends and was especially known for his "Drake Burgers" and fish fries. Because of his deep love and devotion of family, George, also lovingly referred to as "Uncle Sonny" by his nieces and nephews, was inspired to help initiate the Rogers and Conners Family Reunion in 1978. The first gathering was held in Memphis, Tennessee. Family members from near and far came to celebrate family being together! The family reunion continues until this day. It has been held in various cities across the county every Labor Day weekend.

He was preceded in death by his parents; uncles, Willie Currie, Frank Drake, Ernest Drake, George Lewis and Silas Lewis; aunts, Molly Brown, Aslee Bond, Emma Blair, Pattie Marie Sharp, Martha Batchelor and Lillie Rose Lewis.

He leaves to cherish his loving memory, daughters, Regenia Wilson, Clearwater, Florida, Tiffany (Ronnie) Johnson, Las Vegas, Nevada; sons, Gregory (LaTanya) Drake, Inglewood, California, Jamar (Sheena) Duncan, Columbia, Tennessee and Terrell Duncan, Mount Pleasant, Tennessee; 13 grandchildren, Edward, Mya, Sadivia, Tennille, Alexandra, Lavender, Lesia, Jamar Jr., Aiyana, Sheadon, Da'Mone, Samuel and Aaron; one great-grandchild, Brice; five sisters, Nancy Bond, Francis Drake, Lucy Monroe, Pam Bonds and Michelle Bonds; two brothers, Robert Whitmore and Michael Drake; three aunts, Lonnie Scates, Barbara Drake and Mary Gary; special cousins, Maggie and Fred Ramsey; special niece, Bridgett Nelson; many nieces, nephews, cousins, other relatives and friends including dear friend of 50 years, Ethel Drake; special friends, Willie Joe Calloway, Albert Boyd and Renee Anthony.
Previous Events
Family Hour
Immanuel's Temple Church
5400 South Martin Luther King
Jr. Blvd., Lansing
Funeral Service
Immanuel's Temple Church
5400 South Martin Luther King
Jr. Blvd., Lansing