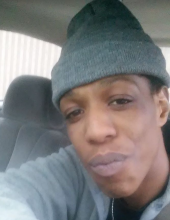 Obituary for Antonio Parham "Tone"
Mr. Antonio Parham "Tone" passed away on January 27, 2018. Age 26 years. He was born April 8, 1991 in Saginaw, Michigan to Demaret C. Bailey, Sr. and Kenyatta T. Parham.

Antonio was born and raised in Saginaw, Michigan. He accepted Christ at an early age. Antonio attended Bridgeport schools and later attended Arthur Hill High School where he was known as the boy who wore Jolly Ranchers in his braids. He also completed Job Corps, obtaining his GED and certificate in Business Administration. Tone was a fun-loving big brother, a great father, a caring uncle, and grandson who always helped his grandma. Young Tone was a pure, natural, creative talent who loved to play basketball and dance. He also looked forward to pursuing a career as a rapper. Antonio always ended conversations with his loved ones with "love you." We believe he now sits in Heaven, with his angel wings, and is watching over us.

He leaves to cherish his memory one son, Sevryn Brenden William Bailey; one unborn daughter; his mother, Kenyatta T. Parham; father and step-mother, Demaret C. (Donna Bailey); seven sisters, Whitney Parham, Christian Cole, Karla Coleman, Teera Hines, ToMarkio Burden, Alonte (Corey) Johnston and DeAmber Bailey; two stepsisters, Takesha and Tamara Montgomery; three brothers, DeMario Williams, DeMaret Bailey, Jr. and Kenneth Coleman; eight nieces; six nephews; four aunts, Sherron (Tony) Lee, Aisha Parham "his heart," and Denise and Dawnise Bailey; one uncle, Charles (Stefani) Porter; twenty-two cousins; many other relatives and friends; special friends, Paige Johnson and Brenda McDaniel.

Antonio was preceded in death by one brother, William T. Parham; grandparents, Charlie and Marguerite Hozier Bailey.

The family would like to express special thanks to Dr. Marvin T. Smith and the Mount Olive Institutional Missionary Baptist Church; Ivan E. Phillips and the staff at Paradise Funeral Chapel.
Previous Events
Visitation
Mt. Olive Institutional Missionary Baptist Church
1114 North 6th Avenue
Saginaw, Michigan
Memorial Service
Mt. Olive Institutional Missionary Baptist Church
1114 North 6th Avenue
Saginaw, Michigan
Officiating: Pastor Dr. Marvin T. Smith