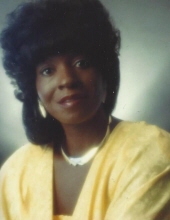 Obituary for Sandra Kay Fowler "Rada"
On Tuesday, January 25, 2018, angels called Sandra Kay Fowler "Rada" home to be with the Lord. Age 68 years. Sandra was born on September 3, 1949 in Jackson, Michigan to Luella (Taylor) Fowler and Alfonso Fowler.

Sandra attended school and worked at Gilbert Steak House in Jackson, Michigan. After relocating to Saginaw, she worked and retired from General Motors. Sandra later worked at Ricker Middle School and was known to the students as Ms. Brown. She was a very classy lady that loved to dress. She wore the sweetest smile that could lift anyone. Sandra truly enjoyed fishing, yard sales, cooking, home decorating, uplifting and encouraging others. She will always be remembered for her laughter, kindness and realness.

Sandra leaves to cherish her memory 3 daughters, Gail (LafaroKhalil) Madoula-Bey, Ann Arbor, Michigan, Shelley "Shell" House, Saginaw, Michigan and Tracy (Brown) Edwards, Van Buren, Arkansas; grandchildren, Shanelle House, Holland, Michigan, Desmond House, Saginaw, Michigan, Zacharay Badger-House, Mount Pleasant, Michigan, Khalil Madoula-Bey, Ann Arbor, Michigan, Nichole Richards, Van Buren, Arkansas, Charde and Monet Madoula-Bey, Ann Arbor, Michigan, Tierra Richards, Van Buren, Arkansas; great-grandchildren, Derrisha and Shaderricka House, Desmond House-Gilbert, Darriasia Carter, Mariah Gilbert, Derrick Carter Jr., Cherish and Shakira House, TyReese Braddock and TyAree Braddock; sisters, Linda "Linnie" Chavous, Cora Thompson, Odeania and Sona Carruth; brother, David "Punkin" Fowler; nieces, Dawn Harrell, Angela Harrell, Leticia Fowler, Brandy Fowler and Tennile Chavous; nephews, Larry Johnson, Keith Harrell, Anthony Fowler, Albert Elgin Chavous III, and Che Fowler; cousin, Charles "Chuck" White; mother-in-law, Easter Mae Brown; sisters-in-law, Sharon (Clark) McMillan, Brenda (Boyd) Johnson; brothers-in-law, Charles Brown, Samuel "Bow" Gibson; many other relatives and friends; special friends, Ervin Harris, Carrie "Mikey" Price, Alonzo "Al" Bowman-EL, Marie Dunnaway and Daniel Montrel "Dan Jr."

She was preceded in death by her son, Lonnie Louis House; parents, Alphonso Fowler and Luella Fowler; sisters, Jaclynn Fowler and Patricia Ann Harrell; brothers, James "Moon" Fowler and Alfonso "Red" Fowler; grandson, T.J. Braddock.

The family would like to express special thanks to Sona Carruth, Odeania Carruth, Sharon "Clark" McMillan, Ervin Harris and Marie Dunnaway.


Previous Events
Visitation
Paradise Funeral Chapel
3100 South Washington Ave.
Saginaw, Michigan 48601
Family Hour
Paradise Funeral Chapel
3100 South Washington Ave.
Saginaw, Michigan 48601
Celebration of Life
Paradise Funeral Chapel
3100 South Washington Ave.
Saginaw, Michigan 48601
Officiating: Pastor Chet Atkins, Gideon Christ Community Church