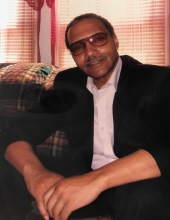 Obituary for Lowell Wade, Sr. (Lansing)
Mr. Lowell Adolphus Wade, Sr. was born August 6, 1952, the second son of proud parents,
William Sr. and Brunetta Wade in Tyler, Texas. He made his transition from this life at his
residence, November 16, 2017. Age 65 years.

Lowell matriculated through the public schools of Lansing from elementary to high school.
During his high school tenure, he set several football records as a running back. In 1970, he set
the state record in Shotput, and held this record for 20 years. He graduated from J.W. Sexton
High School in 1970. A staunch and all-around talented athlete, Lowell committed to Northern
University on a football scholarship, but then right before the school year stated he transferred
to Michigan State University on a football scholarship under Coach Duffy Daughtery. While at
Michigan State University he sustained a severe knee injury that ended his football career. Lowell
was a diehard MSU fan. He loved sports. His favorite hobby were fishing Lowell was inducted
into the Hall of Fame at J.W Sexton High School on September 25th, 2015 for the following
outstanding athletic record.

Football Team MVP 1967, 1968, 1969
6A Football League Champions 1969
All-City Football Selection 3 years
All-6A League Selection 1969
All-State 1st Team Football 1969
Track 3 Year Award Winner
1st Place Shotput / Spartan Relays
Shotput Record City / School 1969
Michigan State University Football 1971

A proud and humbling moment in his lifetime. To date, local football analyst still state that
"Lowell Wade was the best running back to come out of J.W. Sexton High School." Lowell married his high school sweetheart, Marilyn Celeste Kennedy Wade and they became the
proud parents of two sons, Lowell, Jr. and Melvin. Later in life Lowell was blessed with three
beautiful daughters, Cherie, Nikeesha, and Desiree, and a third son, Jordan. Lowell worked for
First Housing Properties for more than 12 years.

He leaves to cherish his memory his, three sons, Lowell, II (Samantha), Melvin (Keisha) and Jordan (Samantha) all of Lansing, Michigan; three daughters, Cherie (Nate) Dumas of Lansing, Michigan, Nikeesha (Vincent) Logan, and Desiree Salazar, both of Columbia, Tennessee; twenty
grandchildren; three great-grandchildren; three brothers, William Wade, II, Larry Wade, Mark
Wade; three sisters, Veronica Wade, Angie Wade, and Katrina Smith; two aunts, Ruby Roper, of
Detroit, Michigan, Lois Beavers, of Lansing, Michigan; two uncles, Roy & Fred Cunningham; one
niece, Soya; two nephews, William and James; step-mom, Mary Wade; special friends, Sherry
Taylor, Roxanne and Bobby Bibbs, Warren Silvertooth; mentor, Joel Ferguson; longtime friend,
Ruby Nash, and many other relatives and friends.

He was preceded in death by his parents and younger brother Jesse Wade..
Previous Events
Family Hour
New St. Paul Church of God in Christ
1717 East Cavanaugh Road
Lansing, Michigan 48911
Funeral Service
New St. Paul Church of God in Christ
1717 East Cavanaugh Road
Lansing, Michigan 48911