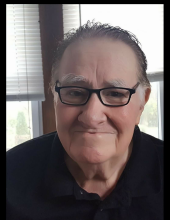 Obituary for Bernardo Garza Ramon, Sr.
Mr. Bernardo Garza Ramon, Sr. passed away on Thursday, November 16, 2017. He was born on June 3, 1936 in Bishop, Texas to Jose and Maria Ramon.

Mr. Ramon was a resident of Saginaw, Michigan where he attended St. Joseph Parish. He loved spending time with his wife and other family members. He was employed by Houlihan Construction for many years, but retired from Timbertown Fire and Water Restoration in 2006. Mr. Ramon enjoyed playing and watching golf, fishing, playing cards, remodeling, also making and fixing things. Bernardo loved traveling to Texas every year to visit family until he was no longer able due to his health. He was a man of his word, a man of integrity, kind, loving and family-oriented. Bernardo loved and cherished his wife and family until the end.

Bernardo leaves to cherish loving memories five daughters and two sons, Gloria Castro, Bernardo (Josephine) Ramon, Jr., Rolando Ramon, Della (Richard) DeLacruz, Sr., Rosemary (Miguel) DeLacruz, Sr., Nancy Ponce (Dewey Stevenson) and Sandra Ramon; grandchildren, Terriance Ramon-Sample, Sabrina Guajardo, Richard DeLacruz, Jr., Jesse DeLacruz, Amanda DeLacruz, Regina Ramon, Alma Ramon, April Ramon, Samantha Ramon, Rolando Ramon, Jr., Miguel DeLacruz, Jr., Estevan DeLacruz, Mathew DeLacruz, Robert DeLacruz, Liza Soria, Leslie Kemp, Stephanie Ponce and Marcos Ponce; twenty-seven great-grandchildren; 13 great-great-grandchildren; three sisters, Olivia Pena, Ofira (Agustin)Rangle, Mary (Chico) Luna; three brothers, Candelario (Virginia) Ramon, Robert (Donna) Ramon, Jesse (Thelma) Ramon; one sister-in-law, Aurora Lopez; many nieces and nephews; one aunt, Elvira Mora.

Mr. Ramon was preceded in death by his wife Virginia A. Ramon on September 18, 2017; parents, Jose and Maria Ramon; brothers, Avelino and Noe Ramon; sister, Antonia Pecina; great-granddaughter, Cecelia Palmer; great-great-grandson, Carlito Adkins; father and mother-in-law, Francisco Paez and Virginia Olivarez Paez; brother-in-law, Amado Pena.

The family expresses special thanks to our extended family and friends for all expressions of sympathy during our bereavement.
Previous Events
Celebration of Life
St. Joseph Parish
936 North 6th Avenue
Saginaw, Michigan 48601
Officiating: Father Frank Voris