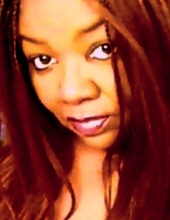 Obituary for Benay Parker-Blackman (Lansing)
Benay Camille Parker-Blackman was born on January 30,1958 in Detroit, Michigan to the late Mr. Benjamin Franklin Parker and Mrs. Gwendolyn Vern Parker Hayward.

She was proceeded in death by her loving parents, and grandparents, Mr. Robert (Ruth) Parker and Albert (Camilla) Williams. Benay 's family moved to Lansing during her younger years.
Benay began singing at the tender age of 6 with her first performance at the age 10, thanks to the molding and encouragement of her dear uncles Greg and Gordon Williams. Benay attended Everett High School where she embraced track and field, and was a champion at hurdles.
Benay was blessed with many skills, as shown by her previous employment as a General Manager at Olan Mills and Suretel. Benay was most proud of a 45 single she recorded with
longtime friend, Jesse Allen. Benay began her spiritual journey as a Jehovah's Witness at the age 15. Several years later she transitioned to Christianity. Benay attended Faith Fellowship Baptist Church where she sang on the praise team and in the choir with an angelic voice of praise. Her pastor, Dr. Stan Parker, often requested the solo "I Want to be a Christian" and "I Don't Mind Waiting". Another favorite was Benay's rendition of "I love the Lord".

The Lord called his sweet songbird home on Thursday, August 10, 2017. Benay leaves 3 strong warriors to cherish her memory and carry out her legacy. Her beautiful daughter, TaMara Blackman(Ricardo); two loving sons: KaWin Grady and Julian Grady. She also leaves 2 stepsons: Kedwin Dave Grady, Jr. and Romeo Ricky Grady; granddaughters: ChiAnne Sheerin and LaShaya Williams: Her loving sister, Amber Parker and niece Sasha Grey. Benay also leaves to celebrate her life, the father of her children and musically inclined song writing partner, Kedwin Dave Grady,Sr.; and a host of godchildren, cousins, aunt, uncles, family and friends.