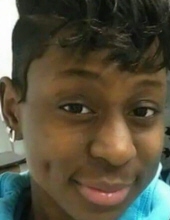 Obituary for Lela Long
Lela Dymond Simone Long made her entrance into the world on February 3, 1997 in Saginaw, Michigan. She was entrusted to Leona Long and Larry Smith. Lela attended Saginaw Public Schools and graduated from Arthur Hill High School, "Class of 2016." She also graduated from the Saginaw Career Complex in 2016 where she was a student in the Business and Management program and earned nineteen credits in the Success Academy. Basketball, singing and dancing were some of her favorite things to do. She was a hard worker and a go-getter. She had many talents and many hustles, but her passion was cutting hair. To her it was an art form and she was excellent at it. Lela was a kind and loving friend to everybody. Her character and great personality impacted many especially her two little sisters. She loved to keep a smile on people's faces. She had the prettiest dimples that complimented her beautiful brown skin. If Lela loved you, you knew it because she would show it and she would say it a million times. She loved her family dearly. Spending time with them is what kept a smile on her face. Loving, respectful, warm and kind is how she will be forever etched in the hearts and memory of her loved ones.

Lela was preceded in death by her brother, Larry Smith; great-grandmother, Arlie Long; aunts, Gwendolyn Wicker, Veris Thompson; great-aunt, Mary Neal Long; cousins, Suzie Long and Matthew Long.

She leaves to celebrate her life parents Leona Long (Purple Joseph Wilson), Larry Smith, Lou Smith; grandparents, Ethel Long, Leon Choyce, Ella Bryant, Glendora Smith; six sisters, Tela Smith, Kela Long, Alaya McNair, Jhamoni Benson, Sha'Breila Vaughan, Ella Smith; five brothers, Zay'Onis Hill, Trevion Riley, Quaveon Smith, Frank Belvin, Drevon McNair; six aunts, Laura (Frederick) Pruitt, Melvina Long, Lorraine Long, Lenora Long, Tonya (Manuel) Williams, Mona Box; uncle, Richard Long; godmother, Yondina Wicker; many other relatives and friends, including special cousins, Corey, Dequazion, Drevon, Meshonda, Devondre, Alondre, Torion, Micah, Malaya, Paris, and companion, Jeffrey Blanton.
Previous Events
Memorial Service
Faith Harvest Church
1743 North Mason Street
Saginaw, Michigan 48602
Officiating: Bishop Ronald E. Chipp