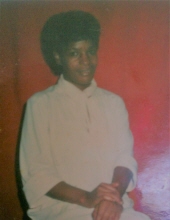 Obituary for Dorothy Jean Heart
Dorothy Jean Heart was born April 14, 1955 in Saginaw, Michigan to the late Nathan and Jimmie Lee Laury. She attended Saginaw Public Schools before moving to Flint, Michigan, where she resided until her passing. In her youth, she played softball and never lost her passion for the game. Her hobbies were cooking and fashion. Dorothy was a woman who was all about family. She enjoyed caring for her children and grandchildren. She loved her brothers and sisters dearly. Not only did she love family but she loved people in general. She had a soft spot for anyone she came in contact with. If she had it, you had it as well. Dorothy loved attending Bridgeport Baptist Church before her health failed. She was loved by many, including the kids in her neighborhood who lovingly called her "Big Ma." Her presence will truly be missed by many.

Dorothy was preceded in death by her parents, Nathan and Jimmie Lee Laury; five brothers, Matthew Laury, Walter, George, Nathan, James Lowery; sister, Grace Fields; one granddaughter, TaNika Laury.

She leaves to cherish precious memories three daughters, Lashonta Laury (Fred Johnson), Flint, Michigan, Ora (Arthur) Black, Kenyanika Heart, both of Saginaw, Michigan; seven stepchildren, Felicia Williams, Tina (Maurice) Streeter, Tanya (Byron) Turner, Angela, Tamar, Kendra (Musa Sahib), Tamarik Heart; two sisters, Addie Mae Laury, Jacqueline (Lorenzo) JaCocks; four brothers, Charles (Dora), Kenneth, Wardell, Nathan Laury, Jr. (Dawn Elder); grandchildren, Darryl Brown, Jr., Shavonna Laury, TyKeisha Black, Kentaisha, Paris Heart, DayVontra, Xavier Black, D'Artagnan, Darius Williams, Trayfaneisha, TyShawnee Collins, Eric King, Jr., LeAundria, LeAndrew Hunter; thirteen great-grandchildren; one aunt, JoAnn Greene, Jackson, Mississippi; godchildren, Pastor Angela (George) Parkes, Annie (Aaron) Evans, Charlotte, Jeannie, James Hill, Deean (Latrail) Nelson, Althea Barrett; many other relatives and friends including niece, Marshan Ivy, nephews, Teleo (Natacha) Laury, Atlanta, Georgia, Leonard Batts, Jr. (Shonda), Indianapolis, Indiana, cousins, Janie Tolden, Phyllis Scarbrough, and friends, Deann Hill, Annie Curry, Marsh Williams, Pam Barnes, and Deborah Young.

The family would like to extend a special thanks to Hurley Medical Center, Tina Streeter, Ivan E. Phillips and the Staff of Paradise Funeral Chapel, and all who supported the cause. The children and extended family thank you so much.


Previous Events
Visitation
Paradise Funeral Chapel
3100 South Washington Ave.
Saginaw, Michigan 48601
Family Hour
Paradise Funeral Chapel
3100 South Washington Ave.
Saginaw, Michigan 48601
Celebration of Life
Paradise Funeral Chapel
3100 South Washington Ave.
Saginaw, Michigan 48601
Officiating: Pastor Angela Curry-Parkes, Greater Impact International Ministries