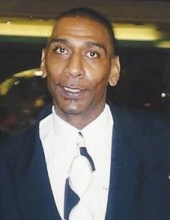 Obituary for Richie Dean Cantu
Divine providence ordained by God has called a loving son, father, brother, fiancé, grandfather, uncle, cousin and friend, Richie Dean Cantu, to depart from us suddenly at his home on Tuesday, January 23, 2018 in Cass City, Michigan with his fiancé, Shelly Proctor, at his side. They had a wonderful outing the day before his transition. Richie Dean was born on June 30, 1960 in Camden, Arkansas.

He was called Dean by friends and family. His mother, Lois Blake Cantu, doted on him. Richie Dean was a loving and caring person with a magnetic personality. He loved his family and his friends and was loyal to them, and was known to make pop up visits to everyone especially his children, his sister and his brother. Many have said, "He was a good guy." Fishing, riding his motorcycle and spending time with his fiancé, family and friends were his favorite pastimes. He was looking forward to reuniting with the Saginaw High School "Class of 1978" this year. After graduating from high school he worked various jobs and always seemed to have favor with his employers and those many people that he helped out by doing favors or odd jobs. He will be missed by all who loved him including his cat, Tootie. "God didn't write him off. He recalculated his route." He was extremely proud of his daughter Brittney and his sons, Brentt and Brandon and his grandsons. His nephews and nieces will surely miss him but his grandson, Kaiden, and his great-nephews, Willie Jovante Buchanan Jr., Carter, and Amari are really going to miss seeing granddad and Uncle Dean riding up looking "cool" on his sharp black motorcycle.

He is survived by his daughter, Brittney; sons, Brentt and Brandon (Heather) Cantu, all of Saginaw, Michigan; the mother of his children, Tarra (Gregory) Williams; grandchildren, Kaiden, Brentt Richie Dean, Jr. and Caleb Cantu, Saginaw, Michigan; his fiancé and special friend, Shelly Proctor, Cass City, Michigan; one sister, Marcia L. Buchanan; one brother, Randy M. Vanhook Sr., Saginaw, Michigan; three nieces: Denanzel (Haven) White, Milwaukee, Wisconsin, Candace and Anginae Buchanan, both of Saginaw, Michigan; nine great-nieces: Moneek Doxie, Clarissa Adams, Amaya Buchanan, Aja and Tea Vanhook of Saginaw, Michigan, Aniyah Buchanan of LaVergne, Tennessee, LaToya and BreAnna Taylor and Savanah White of Milwaukee, Wisconsin; one great-great-niece: Maleya Doxie, Saginaw, Michigan; four nephews: Donzel Taylor, Ennix (Laurie) Buchanan, Willie Jovante Buchanan Sr., Saginaw, Michigan, and Randy Vanhook Jr., Midland, Michigan; seven great-nephews: Willie Jovante Jr. and Carter Buchanan, Amari Dotson, Jordan Caldwell of Saginaw, Michigan, Emontre Sr. and Jaylen Buchanan of LaVergne, Tennessee, and Caleb White, Milwaukee, Wisconsin; two great-great-nephews: Emontre (EJ) Jr. and Emir Buchanan, LaVergne, Tennessee; numerous cousins including Charlene Jefferson, Chidester, Arkansas; many other relatives and friends; special friends, Anna McMillon, Richard McMillon, Dwane Williams, Cordelia Hall Gonzalez, Jerry Coleman, Anthony Trice, Hoseisa Ranson, Butler, McMillon and Hall families; extended family, Kenneth (Victoria) Proctor, Erica Nowland and Angie Zagorski; goddaughter, Ondraya Holton; special grandmother, Shirley Kappen, and great-aunt, Vivian Rabideau.

Dean was preceded in death by his mother, Lois Blake Cantu; brother, Allen Vanhook, grandfather, Theodore Blake; grandmother, Birdie Harris Blake; sister-in-law, Eva Vanhook; aunt, Lorraine Burden; cousin, Joyce Bell and special grandmother, Ida Mae Caldwell.

The family would like to express special thanks to everyone who expressed condolences and other acts of kindness; Ivan E. Phillips and the Staff of Paradise Funeral Chapel.
Previous Events
Visitation
Paradise Funeral Chapel
3100 South Washington Ave.
Saginaw, Michigan 48601
Family Hour
Paradise Funeral Chapel
3100 South Washington Ave.
Saginaw, Michigan 48601
Celebration of Life
Paradise Funeral Chapel
3100 South Washington Ave.
Saginaw, Michigan 48601
Officiating: Pastor Edward Jones, Refreshing Life Ministries
Cemetery Details
Location
Forest Lawn Cemetery
3210 South Washington Avenue
Saginaw, Michigan 48601