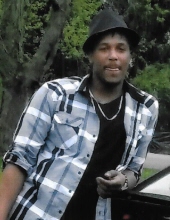 Obituary for Delvon Trice (Lansing)
There is a time for everything, and a season for every activity under the heavens. A time to be born and a time to die. On Sunday, May 27, 2018, God said, Delvon Isaiah Trice, known as "Von", its your time. At the tender age of 24, Von went home to be with the Lord.

Delvon was born January 4, 1994 in Lansing, Michigan to Cynthia Trice and Ronald White. He journeyed through Charlotte Public Schools and attended Charlotte High School. The oldest son of eight children, Von was a big family man. He was a mama's boy and his sisters' protector. He cherished all his nieces and nephews as if they were his own children. Von had a great, big, beautiful smile that would brighten any room and he had an even bigger heart. A heart of gold that would give the shirt off his back to anyone who needed it. Von would give you his last dime whether you were a friend or foe. He would open up his home to anyone who needed a place to stay. He was a hard worker and enjoyed making money working with his hands. Delvon loved hanging out with family and friends, helping others, cooking (he called himself Chef BoyarDee), fishing, carpentry, collecting tools, partying, bonfires, kids, being silly and telling jokes. Von will be remembered by all who knew him for his courageous spirit, intense strength, big heart, sweet demeanor, respectful attitude, beautiful smile and his love for his family. The scripture most befitting Von's life is "For I was hungry and you gave me something to eat, I was thirsty and you gave me something to drink, I was a stranger and you invited me in, I needed clothes and you clothed me, I was sick and you looked after me, I was in prison and you came to visit me. And Jesus says, "Truly I tell you, whatever you did for one of the least of these brothers and sisters of mine, you did for me.'" Job well done Von.

Delvon was preceded in death by his grandparents, Gilbert Trice, Jerline Hall; uncle, Antonio Trice; aunt, Maxcine Carter.

Delvon leaves to forever cherish his memory parents, Ronald White and Cynthia Trice; six siblings, Shameika Williams, Alexis (Kris) G, Dominique White, Gilbert Trice, Jr., Sha'narnia Trice, Jaron Trice, Onahalaya Trice; six nieces and nephews, DaSean DeMyers, Antonicia McNichols, Amaiyah McNichols, DaShiyah Williams, Akaiyah McNichols, Antonio Williams-Cooper, Zahara Stitt; aunts and uncles, Michelle (Antonio) Trice, Doyle G. Brown, Viola Trice, Victor (Jeannie) Trice, Pamela M. Trice, Timmy (Precious) Trice, Zariah Mitchell; special cousins, Victor, Jr., Audrey, Marcus, Ciera, Depree, Queeta, Little Tony, Tamia, Shanita, La'vonte, Angel, Isaiah, Little Gary; a host of other relatives and friends, including special friends, Chambers Briggs, Jake Wright and Taylor Richards.