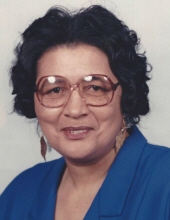 Obituary for Mamie West
Our beloved mother, grandmother and great-grandmother, Mamie West, went home to be with the Lord on Wednesday May 2, 2018 at St. Mary's of Michigan-Saginaw. Age 89 years. She was born on January 7, 1929 in Depew, Oklahoma to Erick and Zana Goode.

Mamie was a lifelong member of St. Luke C.M.E. Church where she was under leadership of several different pastors, currently under Pastor Joyce Braddock-Redfearn. She served as a Missionary, member of Stewardess Board #1, and on the Kitchen Committee, until her health failed. Mamie was employed in several positions throughout her life; last and most fulfilling was being a licensed day care provider. She was affectionately known as "Granny" by all of the children entrusted to her care. Mamie's hobbies were crocheting and knitting the most beautiful afghans. She took pride in being awarded first place for her afghans at the Saginaw County Fair. Mamie's favorite pastimes included watching Steve Harvey, Housewives and T.I. and Tiny, and doing word search puzzles. Mamie also loved to cook; her specialties included Dump Cake, Banana Pudding, Pumpkin Bread, Zucchini Bread and her special relish, Cha Cha.

She leaves to cherish her memory four daughters, Earlene (Robert) McNair, Delores (Charles) Buckner, Yvonne (Dennis) Mullins, all of Saginaw, Michigan, Gwendolyn (John) Letts, Grand Rapids, Michigan; six granddaughters, Devona (Charles) Lipsey, Kalamazoo, Michigan, Dawn and Denise Buckner, TacJuan McKinney, all of Saginaw, Michigan, Monique Magazine, Pembroke Pines, Florida, Stacie (Nate) Major, Indianapolis, Indiana; one grandson, Derrick (Tasha) West, Davidson, Michigan; eight great-grandchildren, Darrion Buckner, Charles Jr., Joshua and Amaris Lipsey, Aeriana Olivarez, Ta'Varion Burrell, Karen and Karrie Bell, Zuri, Za'nya and Zoee Major; one great-great-grandson, Jaden Buckner; one sister, Amie Harris, Tulsa, Oklahoma; one brother–in-law, Johnnie (Viola) West, Tulsa, Oklahoma; three sisters-in–law, Corethna Mae West, Tulsa, Oklahoma, Ada Simmons and Lillie Minnis of Oklahoma City, Oklahoma; she also leaves Dr. Lisa Wicker, Ph.D., who was like a daughter, and her family; special friends, Rev. Azalee (J.T.) Landrum.

Mrs. West was preceded in death by her husband, Irvin West; one daughter, Marie West; parents, Erick and Zana Goode; two sisters, Emma Lee Brown and Bee Ethel Garrett; seven brothers, New Deal, Walter, Robert, James, Leonard, Bethel and Foster Goode; and best friend, Mildred Welch.

The family wishes to express their sincere gratitude to all of you for your prayers, presence, love and all other expressions of concern that you have shown during our time of bereavement. Never more than now was your kindness needed and more appreciated. Special thanks to the staff at Healthsource of Saginaw, Dr. Rama Mulpuri, and Mr. Ivan E. Phillips and the staff at Paradise Funeral Chapel.
Previous Events
Visitation
Paradise Funeral Chapel
3100 South Washington Ave.
Saginaw, Michigan 48601
Family Hour
Paradise Funeral Chapel
3100 South Washington Ave.
Saginaw, Michigan 48601
Funeral Service
St. Luke C.M.E. Church
1121 Tuscola Street
Saginaw, MIchigan 48607
Officiating: Pastor Joyce Braddock-Redfearn
Cemetery Details
Location
Forest Lawn Cemetery
3210 South Washington Avenue
Saginaw, Michigan 48601