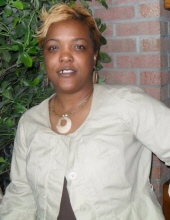 Obituary for Velvet Lashonda Stuckey
Velvet Lashonda Stuckey made her debut on June 2, 1972 in Saginaw, Michigan. She was entrusted to Eddie and Eliza Stuckey. A beautiful baby and a sweet child, she grew up to be a beautiful woman with a sweet spirit.

Velvet was a graduate of Saginaw High School, "Class of 1990" and was a member of the reunion planning committee. She further pursued her education at Ferris State University majoring in social work. With a heart for young people and a passion to help them succeed, she returned to her hometown of Saginaw and worked with kids in her own community.

She was a member of Messiah Missionary Baptist Church where she sang in the choir and worked faithfully as the youth director. She was employed with Buena Vista School District for over fourteen years. She also worked the Youth First After School Program and at Wolverine Human Services.

In her spare time, Velvet enjoyed playing softball, cooking, bowling, shooting pool, listening to music and traveling. Her love for young people was genuine. She was always helpful and always had the answers. She wore many hats and was a lot of things to a lot of people. Social worker, counselor, confidant, babysitter, friend, teacher and much more. Velvet was always ready to help someone in need. Her physical presence is gone but she left a lasting legacy.

On Friday, September 7, 2018, Velvet gained her wings and was met at Heaven's gates by her father, Eddie Stuckey; grandparents, Sylvester and Polly Sampson, Tommie and Cora Stuckey.

She leaves to celebrate her life and legacy daughter, T'era Cooper; two sons, Daniel West, Jr., Antjuane Cooper, II; mother, Eliza Stuckey; grandchildren, Daniel West, III, Lauryn Williams; two sisters, Katherine (Randy) McGill, Pamela Redrick; three brothers, Carl Stuckey, Kenny Stuckey, Dennis Mayes; four nieces, Shaquita, Naja, Keydriarra, Mariah; three nephews, T'Andre, Michael, Dennis; close cousins, Carolyn, Alesia, Jacob, Destany, Tonya, Shawneequea Sampson, Debra Gartley, Donna Ford, Ryan Bell; godparents, John and Pashion Hall; godbrothers, Sven Henson "Cookie", Gregory McDole; godchildren, Marcus, Adrienne, JaQuavia, Tiara, Lashaundra, Laylah, Lorenzo, A'Mari, A'marion, Mike, Mykail; many aunts, uncles, cousins and friends, including special friends, Donna Bledson-Cole, Derek Riley, Lou Dawkins, Zelda Haynes, Diane Donald, Dr. Catrina M. Jones, and her sweet child, "Me-Ma" Harmoni Box.

The family would like to express special thanks to Draymond Green, Mary Babers, University of Mississippi Grenada Medical Center, Skeeter Robinson Funeral Home, Ivan E. Phillips and the Staff of Paradise Funeral Chapel.





Previous Events
Visitation
Paradise Funeral Chapel
3100 South Washington Ave.
Saginaw, Michigan 48601
Family Hour
Paradise Funeral Chapel
3100 South Washington Ave.
Saginaw, Michigan 48601
Celebration of Life
Wolverine Baptist State Headquarters
615 South Jefferson Avenue
Saginaw, Michigan 48607