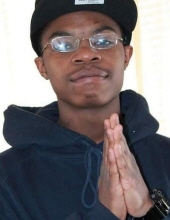 Obituary for Ty Anton Johnson
Mr. Ty Anton Johnson passed away on April 11, 2018 at Covenant Healthcare-Cooper at age of 24 years. He was born on October 8, 1993 in Saginaw, Michigan to Tara Thomas and Torrey Johnson.

Ty was a resident of Saginaw, Michigan. He loved his family, and had a special bond with his mom, Tara Simmons, and his children. Ty also had a very close relationship with his grandmother, Wilma Isom. He adored and loved her dearly. His hobbies consisted of spending time with his children, cousins and friends. Ty also loved spending time with his younger brother, Licari Ray. He felt he had to take care of him as well as their oldest brother, Torrey Johnson. Ty was a caring person whom we dearly love and sorely miss.

He leaves to cherish his memory two sons, Karmello Anton Johnson, Ty Alexander Johnson; one daughter, KaVay Kween Little; his parents, Tara Simmons, Saginaw, Michigan and Torrey Johnson, Indianapolis, Indiana; stepparents, Angelica Johnson and Demond Simmons; grandparents, Wilma Isom, Linda Taylor Prince, Columbus, Georgia, and Jamison "Lavelle" Johnson, Saginaw, Michigan; four brothers, Torrey Johnson, Licari Ray, Ikhlas Johnson and Demond Simmons, Jr; five sisters, Quin'Torreya Johnson, Tamiya Ellis Johnson, DeJanee Johnson, Hazel Johnson, and Iris Johnson; one niece, Sabria Evans; two nephews, Jermaine Evans and Prince Johnson; seven aunts, Venita Simmons Isom, Flint, Michigan, Lolita M. (Mark) Harris, Bakersfield, California, Pia Isom, Saginaw, Michigan, Brandi Thomas Isom, Cincinnati, Ohio, Shawner Branch, Saginaw, Michigan, Yasmin (Eric) Collins, Jackson, Mississippi, Airin (Derrick) Maffett, Fort Lee, Virginia; two uncles, Charles (Sharon) Garrett, Baltimore, Maryland, Brendan Thomas Isom (Kenya), Huntsville, Alabama; five cousins, Devin Patterson, Darius Isom, Cordelfo Howard, Raven Howard, all of Saginaw, Michigan, Breonn Byrd, My'Ari Banks, Cincinnati, Ohio, and Atiyana Isom, Huntsville, Alabama; many other special cousins; a host of other relatives and friends.

Ty was preceded in death by his grandfather, Joe Isom.

The family would like to express special thanks to Venita Simmons Isom, Lolita M. Harris, Brendan T. Isom, Ty's godmother, Jackie Davis, and Charles S. Garrett. Special thanks also to his great aunts and cousiins from Lansing, Michigan.
Previous Events
Visitation
Paradise Funeral Chapel
3100 South Washington Ave.
Saginaw, Michigan 48601
Family Hour
Paradise Funeral Chapel
3100 South Washington Ave.
Saginaw, Michigan 48601
Celebration of Life
Paradise Funeral Chapel
3100 South Washington Ave.
Saginaw, Michigan 48601
Officiating: Pastor Louis Owens, Grace Church of God in Christ
Cemetery Details
Location
Forest Lawn Cemetery
3210 South Washington Avenue
Saginaw, Michigan 48601