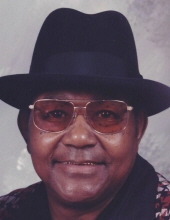 Obituary for Melvin Donald, Jr. "Sonny Man"
Mr. Melvin Donald, Jr., affectionately known as "Sonny Man," passed away on Saturday, March 31, 2018 at Covenant HealthCare-Cooper at the blessed age of 85 years. He was born August 26, 1932 in Salis, Mississippi to Melvin and Wardine Donald.

Melvin moved to Saginaw, Michigan in 1960 where he was employed at General Motors (Chevrolet Grey Iron Foundry) for a short time, and was affiliated with UAW Local 668. He was a self-employed mechanic for many years. Melvin enjoyed fishing, hunting, cars, the casino and his dogs. Most of all, he loved spending time with family and friends. He will be missed by all who knew and loved him.

Melvin leaves to cherish his memory his loving and devoted wife of sixty-five years, Annie Donald, Saginaw, Michigan; nine daughters, Diane Holliman, Emma Donald, Ella (Isaiah) Smith, Maggie Donald, Delphine Donald, Martha (Rick) Jones, Mary Greer, Velma (David) Samuels and Bernadette (JaMaquis) Jones; five sons, Melvin Donald, III, Dennis (Glenda) Donald, Lonnie Donald, Earl (Christy) Winters and Derrick Evans; many grandchildren and great-grandchildren; three sisters, Helen Howard, Erma Shorter, Inez Roundtree; two sisters-in-law, Ernestine Donald and Marion Donald many nieces, nephews and cousins; many other relatives and friends including the Evans family and many others; special friends, Herbert Stapleton, Blue Johnson and Hudell McKinney; goddaughter, Doreen Born.

Melvin was preceded in death by his parents, Melvin and Wardine Donald; one son, Edd Donald; brothers, Charles, Revel, Bobby, Williams, Joe Louis, Jimmy and Jerry Roundtree; special friends, Jimmie McElhaney and Ricky Evans.

The family expresses special thanks to the staff at Covenant HealthCare-Cooper, Pastor Johnson and the Bethlehem Temple Church family, and all of our family and friends for your prayers and kindness shown during our bereavement.


Previous Events
Visitation
Victorious Believers Ministries
624 S. Outer Drive
Saginaw, Michigan 48601
Celebration of Life
Victorious Believers Ministries
624 S. Outer Drive
Saginaw, Michigan 48601