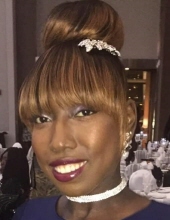 Obituary for Tanjanika N. Taylor
"When I dare to be powerful, to use my strength in the service of my vision, then it becomes less and less important whether I am afraid." Audre Lorde

Tajanika Nicole Taylor, affectionately known as Tangie, was the embodiment of Audre Lorde's sentiment about power, strength, vision and fearlessness when she transitioned from this life Friday, February 9, 2018 at Covenant Healthcare - Cooper. She was born April 25, 1986 in St. Louis, Missouri to Reverend Mae Joyce Braddock-Redfearn and Reverend James M. Taylor. The daughter of parents called to Christ, she was raised in Saginaw, Michigan understanding the unconditional love of family, and the everlasting love of God. Her life was a testament of where the love of God will take you – cultivating courage and ordering your steps to fight for a cause that stands to change lives beyond your own.

Throughout her life, Tangie was committed to fighting to find a cure for Sickle Cell Anemia. Her work with Michigan Blood and the Sickle Cell Association sought to raise awareness of the disease and how the condition in the United States disparately affects the lives of black people. Through her work, she sought to recruit more black people as donors of blood and bone marrow as the treatment proves to have an impact on the lives of those with Sickle Cell disease.

Tangie was also fiercely committed to pursuing her education and advancing the educational pursuits of others. She was a 2004 graduate of Arthur Hill High School (National Honor Society and 4.0 Club). She received her Associates Degree in Psychology from Delta College, with honors and a Bachelor of Science Degree from Liberty University in Lynchburg, Virginia (Magna Cum Laude). She worked as a teacher's aide at Stone Elementary School and a motivational speaker for the Sickle Cell Association and Michigan Blood as well as a mentor to many across various spaces.

Tangie committed her life to the lord at an early age and in maintaining that commitment was a
member of St. Luke Christian Methodist Episcopal Church (C.M.E.) where she accepted her call into ministry and was a Local Minister, New Covenant Christian Center, Dozier Memorial C.M.E. and Mask Memorial C.M.E. (I will Bless the Lord at all times and His praise shall continually be in my Psalms 34:1)

While Tangie had her plate full she always somehow found time to invest in taking care of those around her spiritually and emotionally. She was always present and always positive. Her family and friends will always remember the joy she held onto in-spite of her pain and the endless amounts of fun she never sacrificed – especially if it involved those she held close.

Tanjanika leaves to cherish her life and carry forward her legacy her parents, Reverend Mae Joyce Braddock-Redfearn and Reverend James M. Taylor; step parents, Robin (Carl) Johnson, Bernard Redfearn, and Robert J. Logan; Grandmother, Grace Alexander-Braddock; eight sisters, Tiffany G. Redfearn (Darius), Sarah Redfearn, Chelsa Braddock, Kawanzaa Braddock, Kendrea Braddock, Alexis Braddock, Shamari Taishi Taylor and Dominique Redfearn; four brothers, Jonathan Redfearn, Jaelin Redfearn, Hozari Senaj Taylor and Isaiah Braddock; her niece Lauryn Braddock; three nephews, Cayden George Redfearn, Bryson Cameron and Brayden Cameron; eight aunts, Brenda Thomas, Georgette (Pastor Ron) Frierson, Ruby Jones, Bridgette Braddock, Sheilda Braddock, Rebecca Lewis, Willie
McMurry, special aunt Mildred Braddock; five uncles, Norman Braddock, Stanley Braddock, Reverend Frederick (Sheila) Braddock, Earl Taylor and special great uncle Bishop William H. (Donna) Graves; many cousins (special cousins Robert Marcel Thomas, Candice Braddock and Serina Jones); her best friend Ebony (Phil) Hoffman; and godchildren Isaiah Hoffman and Makayla Hoffman.

Her grandfathers George Braddock and R.C. Taylor, grandmother Fannie Taylor and uncle Reverend Charles Braddock preceded her in death.


Previous Events
Visitation
New Covenant Christian Center Church
2395 South Outer Drive
Saginaw, Michigan 48601
Family Hour
New Covenant Christian Center Church
2395 South Outer Drive
Saginaw, Michigan 48601
Celebration of Life
New Covenant Christian Center Church
2395 South Outer Drive
Saginaw, Michigan 48601
Host Pastor: Dr. Ron Frierson - Officiating: Elder Dr. Phillip D. Washington, Dozier Memorial CME Church