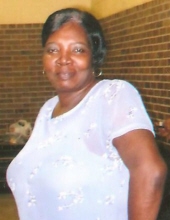 Obituary for Linda McKether
"To everything there is a season and a time to every purpose under the heaven..."
-Ecclesiastes 3:1

A Time to be Born…

Linda Jean (Turner) McKether entered this life on July 2, 1957 to Clifford Turner and Edna Parker in Saginaw, MI. She moved to Gadsden, Alabama at an early age where she was raised by her aunt, Bessie Myrick.

A Time to Learn and Grow…

Linda was a 1975 graduate of Gadsden High School. She went on to work in various fields including nursing and retail where she felt she could help and encourage people.
She accepted the Lord as her Savior at an early age. Linda strived to live a life where people could see and feel the love of God in her. She has served as an usher and loved to sing God's praises. Later in life, Linda became a member of Mt. Nebo Baptist Church where she loved her church family.

A Time to Love…

Linda met Fredrick L. McKether when she returned to Saginaw, MI in 1976. They were married May 6, 1978 and have celebrated over thirty-nine years of marriage.

A Time to Enlarge…

To their union were born six children: five daughters affectionately known as "Linda's Girls" and one son who preceded her in death. At the time of her passing Linda was the grandmother to five grandchildren: two grandsons, three granddaughters and one great-granddaughter. She loved her family and dedicated her life to making sure everyone was taken care of. One of Linda's greatest joys was being surrounded by her family.

A Time to Live Life…

Linda was truly a beautiful person inside and out. She loved to live life to the fullest and loved to encourage other people. She had a distinct laugh that will truly be missed. Linda loved to laugh and have fun. She always greeted you with a smile, a shoulder to lean on or a listening ear if that's what you needed. She had a passion for singing and loving people. Linda loved caring for her plants and often referred to them as her "kids".

A Time to Rest…

Linda Jean McKether departed this life and transitioned from labor to reward on Wednesday, November 29, 2017. The gates of Heaven opened and she was welcomed home. Linda was preceded in death by her father, Clifford Turner; mother, Edna Parker; son, Erik McKether; grandson, Quintae Cooper; sister, Betty Joyce Turner-Wilson; brother, Kelvin Turner, and nephew, D'Varyohn McKinney.

A Time to Celebrate a Life Well Lived…

Her precious memories will be cherished by her loving husband, Fredrick L. McKether; daughters, Shonquonette L. McKether (Saginaw, MI), La'Tasha T. (Robert) Conner (Saginaw, MI), Shakeyah N. McKether (Cleveland, OH), Cy'Reshia T. McKether (Cleveland, OH), and Ny'Taizjah L. McKether (Saginaw, MI); grandchildren, Quinae Cooper, Shermein Cooper, Jr., Na'I'Cesses McKether, Lyric Conner (All of Saginaw, MI); great-granddaughter; Raelynn Brown (Saginaw, MI); sisters, Dorothy Turner (Philadelphia, PA), Pamela Turner (Saginaw, MI), Elaine Grace (Saginaw, MI), Sonya (George) Mushatt (Detroit, MI), brothers, William (Debbie) Turner (Gadsden, AL), Clifford Turner Jr. (Marlette, MI), and Ronnie (Fatima) Turner (Saginaw, MI), as well as a host of nieces, nephews, cousins, cherished friends and acquaintances.
Previous Events
Visitation
Paradise Funeral Chapel
3100 South Washington Ave.
Saginaw, Michigan 48601
Celebration of Life
Mt. Nebo Baptist Church
1111 North 29th Street
Saginaw, Michigan 48601
Officiating: Pastor Willie HIll, Jr.
Cemetery Details
Location
Forest Lawn Cemetery
3210 South Washington Avenue
Saginaw, Michigan 48601