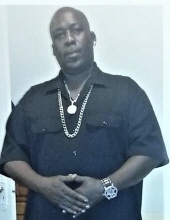 Obituary for Lloyd Aaron Long-Powell
Mr. Lloyd Aaron Long-Powell was born October 8, 1969 in Saginaw, Michigan to Bartholomew Powell, Jr. and Mary Nell Long. He passed away Sunday, September 9, 2018 in Chicago, Illinois. Age 48 years.

Lloyd was a student of Saginaw Public Schools and attended Saginaw High School, but received his General Education Diploma from another institution. He was living in Chicago, Illinois for the last thirteen years and was employed as a construction worker. Lloyd was good with hands and he had the ability to fix or build anything.

Lloyd enjoyed gambling and was a regular at the casino. He was loving, caring, a jokester, dependable, loyal and had a big heart. He would give you the shirt off his back if you needed it. A family man above anything, he loved his children and his family. His aunt Ethel Long called him "Butterstuff" and everyone else called him "Luscious Lloyd." Although we were not ready and feel you left too soon, God said it was your time to rest.

Lloyd was preceded in death by his parents, Bartholomew Powell, Jr. and Mary Nell Long; sister, Lee Long; grandparents, Arrie and Jerry Long, Bartholomew Powell, Sr.; aunt, Mary L. Long; uncles, Roscoe, Wenfred, Cecil, Willie Long; niece, Cassie Jenkins; cousins, Suzie, Lela and Matthew Long.

He leaves to cherish precious memories daughter, Alisza Powell; son, Bartholomew Powell; stepchildren, Lashay Sutton, Benjamin Bledsoe, Antonio Baker; sisters, Lisa Long, Classie (Marcellus) Long-Jenkins, Gwendolyn Long; brothers, Bartholomew Powell, III, Dwayne Powell; two grandchildren; nieces, Shaina, Mary (Jemario Sr.), China, Allysiah, Natashia, Marcella; nephews, Jerry, Tracy (Amanda), Demarko, Davontae, Nathaniel, Danail, Montrell, Trayvon, Malachi; great-nieces and nephews, Tanaijh, Je'maryah, Damyla, KahLisa, Rayvarion, Je'Mario Jr., Tracy III, Cornell, Harmony, De'Mario, Braylen, Demarko Jr., Carter, Trayvon, Aydrian; many cousins, other relatives and friends, including the mother of his children, Azlia Bledsoe, Kenya Thompson and favorite cousins, Dealtoe Pipkins and Laurea Pruitt.

The family would like to express special thanks to the extended Powell family, Ashley Long, Ivan E. Phillips and the Staff of Paradise Funeral Chapel.

As an expression of sympathy, the family requests that you please consider making a donation in Lloyd's name at Paradise Funeral Chapel.


Previous Events
Visitation
Paradise Funeral Chapel
3100 South Washington Ave.
Saginaw, Michigan 48601
Family Hour
Paradise Funeral Chapel
3100 South Washington Ave.
Saginaw, Michigan 48601
Memorial Service
Paradise Funeral Chapel
3100 South Washington Ave.
Saginaw, Michigan 48601
Officiating: Pastor Johnny Jackson, Greater Zion Missionary Baptist Church