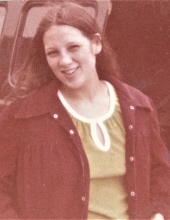 Obituary for Deborah Mestemaker-Fraser (Lansing)
Ms. Deborah Mestemaker-Fraser passed away suddenly Thursday, September 6, 2018 at McLaren Hospital in Lansing, Michigan. Age 64 years. She was born December 23, 1953 to Donald and Marilyn Mestemaker in Lyons, Michigan.

Deborah enjoyed being around people, and due to her infectious personality and smile, she was an extremely successful waitress for many years. In her pastime, she enjoyed cooking, listening to music, watching classic films, especially Christmas movies, which she would watch year-round. Christmas was her favorite time of year. Deborah also loved playing cards, especially with her grandson, Marshal.

She leaves to cherish her memory her son, Derek; grandchildren, Marshal, Alexis, and Amiyah; father; brothers, Marty, Chris, Mike, Ronald; sister, Robin; and many other relatives and friends.

She was preceded in death by her husband, Stephan; son, Corey; mother; and brother, Mitch.

A Memorial Service is being planned for a later date.