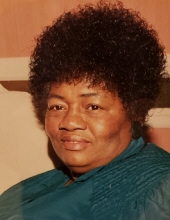 Obituary for Mazerine Couthen (Lansing)
Ms. Mazerine Couthen passed away Sunday, September 9, 2018 at Hospice House of Mid-Michigan, in Lansing, Michigan. Age 88 years. She was born April 9, 1930 in Rembert, Lee County, South Carolina to parents, Robert Grand and Lougenia Ransom.

Mazerine was a faithful person who truly love her life, church, family and especially the Lord. She enjoyed many things in life including listening to great gospel singing. Mazerine was a super fan of WWE wrestling on TV.

She leaves to cherish her memory daughter, Jackie Couthen, South Carolina; four sons, Arthur (Jennifer) Couthen, Atlantic City New Jersey, Edward (Kellie) Couthen, Columbus, Ohio, Sam Couthen and Curtis (Michelle) Couthen all of Lansing, Michigan; 14 grandchildren, Darnell of Nevada, Arthur A. and Alissa both of New Jersey, Erin, Jennifer, Marion, Jericha, Jessica, Paula and Jonathan all of South Carolina, Kevin and Alexandra of Ohio, Cassandra and Curtis John of Michigan; 21 great grandchildren; two brothers, Marion Ransom and Perry Ransom; sister-in-law, Barbara; 3 brothers-in-law, Arthur "Sonny", Alexander and John; many nieces, nephews, cousins, other relatives and friends including special friend, Antonio Smith.

She was preceded in death by four of her children, Billy, Barbara, Pearl and Thomas; two grandchildren, LaTonya and Pandora; and seven siblings, Annie Bell, Bobbi, Albertus, Albert, Sadie, Pert and Malcolm.
Previous Events
Family Hour
True Light Missionary Baptist Church
1147 West Maple Street
Lansing, Michigan 48915
Funeral Service
True Light Missionary Baptist Church
1147 West Maple Street
Lansing, Michigan 48915
Pastor Marc Williamson, Officiating