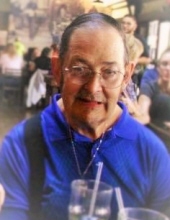 Obituary for Robert Ford (Lansing)
Robert "Bob" Ford went home to his Lord on Sunday, September 9, 2018. He was born September 15, 1945 to George and Lavevia (Doane) Ford of Grand Ledge. He graduated from Grand Ledge High School in 1965 and was active in football and wrestling. He loved bowling, most especially with his dad. He was a kind and gentle soul, always smiling; who wanted to help others.

In June 1977 he married Fredalice "Freddie" E. Tingay and in April 1978 their daughter, Laura Lea was born – she was a blessing to both Bob and Freddie; he was so proud because he got to hold her first.

Bob worked at Lindell Drop Forge for 23 years before they closed their doors in 1987. He retired in 1999 after 12 years with Peckham Vocational Industries.

Bob was preceded in death by his father George, his first wife Linda (Trimmer) Ford, and his Aunt Arlene "Art" Kines. He is survived by his wife Fredalice, his daughter Laura Lea of Lansing, his mother Lavevia Ford, his sister Melissa Ford of Grand Ledge, his brother Bill (Ruth) Ford of Hudsonville, as well as Aunts and Uncles, Nieces and Nephews.


A Celebration of Life will begin with a visitation for family and friends at 3:30pm on Sunday, September 16th at Christ United Church, 1000 W Webb Road, DeWitt, MI. Memorial Service will begin at 4:30pm with a Pot Luck dinner to immediately follow.


In lieu of flowers donations can be made to the Christ United Church Memorial Fund in his name.