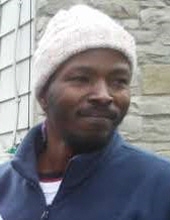 Obituary for Derwin Ray Andrews
Derwin Ray Andrews was born September 7, 1973 in Independence, Louisiana to Archie and Deidra Andrews. He passed away Sunday, August 26, 2018. Age 44 years.

Derwin was a simple man. He didn't need much in life to make him happy. He was a hard worker and a family man. He was a provider and protector. He loved all his family equally and shared a special bond with each of them.

He and his companion, Chona, were together for over twenty years and raised their children in a loving, two-parent home. Derwin loved all his children and grandchildren and enjoyed spending time with him. He taught his sons how to be a man and showed his daughters how a man should love and treat a woman. His presence and calming spirit will truly be missed. Fly high Derwin.

Derwin was preceded in death by his sister, Earline Andrews; brother, Earl Andrews, Jr; and aunt, Brenda Jackson.

He leaves to cherish precious memories loving companion of twenty years, Chona Garner; parents, Archie and Deidra Andrews; daughters, Santana Sims, Nyia Cain; sons, Derwin, Jr., Derwin III, Detrick Andrews; stepson, Demond Simmons, Jr.; grandchildren, Paris Smith, Kayla Sims, Sophia Cain, Derwin Andrews, IV; grandmother, Charlena McClendon; sisters, Dawn Andrews, Donnie'Rell Andrews-Mack; nieces, Irene, Quresha, Kalisha Andrews, Diamond, Todreka Jones, Pay'Shance Andrews; nephews, Alonzo "Zoe", Jeremy, Brian Andrews, Deon Lowery, Jr., Dewey Andrews; aunts, Theressa McClendon, Lola, Julia Humes, Lanell Thomas, Irene Wells; uncles, "Icy Mike", Johnny Cattladge, Jamie, Russell McClendon; a host of cousins, other relatives and friends, including best friend and cousin, Ricky D., Stoney and Terrence.
Previous Events
Visitation
Paradise Funeral Chapel
3100 South Washington Ave.
Saginaw, Michigan 48601
Celebration of Life
Paradise Funeral Chapel
3100 South Washington Ave.
Saginaw, Michigan 48601
Officiating: Elder Cecil Watson, Refreshing Life Ministries