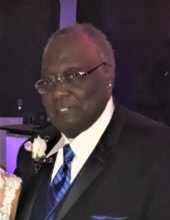 Obituary for Frank Washington, Sr. (Lansing)
A TIME OF ARRIVAL

On a spring day in May, the ninth day to be exact, a bouncing baby boy was born to the parents of James Leroy and Alene Washington. This great day took place in Lewisville, Arkansas and they decided together to name him Frank Boyd.

A TIME OF EDUCATION

In the year of 1952, James relocated his family to Fort Worth, Texas where Frank attended the Fort Worth Public School system, and was a graduate of M. L. Kirkpatrick High School also known as the Wildcats, Class of 1964.

During his high school years, he played football and ran track. He set and broke track records where he earned the nickname "Stone." He was the anchor leg on the 880-yard relay team, and when the baton was passed to him, everyone in the stadium shouted "Stone's got the bone and gone."

After graduating high school, Frank worked in the restaurant industry, and was also an assembly worker at the Fort Worth, Texas Poultry Factory. In 1967, along with his wife and two children, he moved to Lansing, Michigan where he then became employed at General Motors Fisher Body. During his tenure, Frank received the Suggestion Awards and compensation when his innovative ideas were implemented as a cost-effective measure. After 31 years, Frank retired from General Motors, and later worked part time for Enterprise Car Rental.

A TIME OF RELIGION

At a young age, Frank accepted Christ as his Savior, and was baptized at Bethlehem Missionary Baptist church.

A TIME OF LOVE

Frank married his high school sweetheart Ruthie 55 years ago, and 3 children were born; Alicia, Frank Jr. and Sabastian.

THOSE WHO PROCEEDED HIM IN DEATH

Father, James Washington; stepmother, Edna Washington; mother, Alene Long; sisters, Louise Washington Brown, Erma Lee Mitchell; brother, Dennis Morgan Washington, Sr., and mother-In-law, Lillian Ockleberry.

A TIME OF DEPARTURE:

On Thursday, August 23, 2018 around 3:45 am, Frank transitioned from "this life" to a "life eternal." He is now reunited with a host of relatives.

A TIME OF MEMORY:

Those left to cherish his memories: his wife, Ruthie; brother, Arthur Washington (Stella) of Justin, Texas; his sister, Kay F. Bonner (Jesse) of Fort Worth, Texas; children, Alicia Washington-Jackson, (Victor), of Springhill, Tennessee, Frank B. Washington, Jr. (Elicia) and Sabastian B. Washington, (Aja) of Lansing, Michigan; Sister-in-law, Marie Mack, of Dallas, Texas; special friends, Hope Davenport, Katrina Howard, Tina Ramos, and Emily Cunningham. Frank and Ruthie have 26 grandchildren, 11 great grandchildren and a host of relatives and friends.
Previous Events
Visitation
Paradise Funeral Chapel - Lansing
1107 East Miller Road
Lansing, Michigan 48911
Family Hour
Paradise Missionary Baptist Church
3403 Franette Road
Lansing, Michigan 48906
Funeral Service
Paradise Missionary Baptist Church
3403 Franette Road
Lansing, Michigan 48906