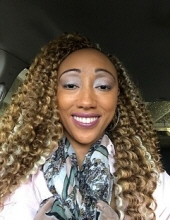 Obituary for Janelle Patrice Brown (Lansing)
Ms. Janelle Patrice Brown went to sleep with Jesus suddenly on Sunday, August 19, 2018 at the age of 38. She was born September 16, 1979 to Cynthia Cotton and Harry Brown in Lansing, Michigan. She was their only child together.

Janelle attended East Lansing Schools. Janelle loved fashion, so after graduating from high school, she became a Spartan, attending Michigan State University, where she earned her Bachelor's degree in Merchandise Management. She moved to Chicago, IL shortly after graduating to continue her heart's desire in fashion. Everyone who knew Janelle, knew how much she loved the big city; but for personal reasons, she had to relocate back to Lansing, MI. She always talked about moving away from Lansing, because this town was too "slow" for this big city girl!

One of Janelle's greatest moments was giving birth to Behati, the joy of her life, in November 2014. She so greatly loved her Booka. Wherever you saw one fashion diva, you saw the other. Behati is her mom through and through.

Janelle worked as a Departmental Analyst in the Michigan Civil Service Commission for the State of Michigan. She was a dedicated, committed worker who put her whole heart into her job and was loved by many.

Janelle accepted Christ at a young age and was baptized at Pilgrim Rest Baptist Church. She always showed her love for Christ. She was a member of The Voices of Deliverance, the dance team and was one of the youth ministry leaders. Janelle loved children and to praise the Lord. As she became a mature Christian, she became an avid student of the word to the point that her cousins would say…"that she and Jesus walked hand in hand". Every conversation she had with anyone especially with her cousins, she was preaching to them. She would say…"I'm going to SAVE THEM ALL!!!!"

Janelle leaves in God's loving care the love of her life, daughter Behati Savannah Magee; mom, Cynthia Cotton, Lansing, MI, dad, Harry (Beverly) Brown, Modesto, CA; three sisters, Shermaine Brown-Wade, Chicago, IL; Carlotta Brown and Shulonda Brown, both of Flint, MI; a niece, nephews; Godparents, Laura Neal, Lansing, MI, Diann McCants, Lansing, MI; Goddaughter, Kennedy Smith, Lansing, MI; a special sister/cousin, Whitney (Trell) Smith, Lansing, MI, two special brother/cousins, David Gibson, Boston, MA and Preston Watson, Haslett, MI, special cousins, Tiffany Cotton, Taylor Cotton, both of Flint, MI, Brandon Cotton-Floyd, Haslett, MI, Joseph (Renisha) Catron, Des Moines, IA, Jeffrey (Tyra) Cotton, Antioch, TN, Chavon (Cecil) VanHooks, Memphis, TN, Chantal (Melvin) Gaines, East Palo Alto, CA, DaPriest (Courtney) Watson, San Antonio, TX; special aunt, S. Faye Watson, her extended family the Magee's, many aunts, uncles, cousins, second cousins, friends, and very special friend, Alphonso (AJ) Jones.

She was preceded in death by her grandparents, Grant and Ruth Mae Cotton; Alvin and Ruth Brown and special uncle Jeffrey Cotton, Sr., and other aunts and uncles.

In lieu of flowers, donations can be made in her memory to the Epilepsy Foundation.
Previous Events
Visitation
Paradise Funeral Chapel - Lansing
1107 East Miller Road
Lansing, Michigan 48911
Family Hour
Pilgrim Rest Baptist Church
5200 Pleasant Grove Rd.
Lansing, Michigan 48910
Celebration of Life
Pilgrim Rest Baptist Church
5200 Pleasant Grove Rd.
Lansing, Michigan 48910
Cemetery Details
Location
Chapel Hill Memorial Gardens
4444 Grand River Avenue
Lansing, Michigan 48906