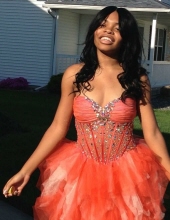 Obituary for Jaida Jiles
Jaida Marie Rashawn Jiles made her debut into this world July 3, 1995. Her journey ended on August 1st, 2018 and she returned to her Creator. The Lord saw fit to rescue Jaida from her suffering and decided to call her home to rest. Although she was afflicted with cancer, she never once doubted that she would be healed and exercised her faith in Jesus until she accepted her wings and took flight. Complaining was not a part of her living, rather she would always say that she was okay and would be alright no matter the outcome.

Jaida Marie professed her hope in Jesus at the age of nine years old and demonstrated strong faith in her Maker and Creator during her life here on Earth. Jaida loved to go to church and always wanted to do whatever she was allowed to do while there. She exercised her gifts by singing in the Youth Choir, working in the Nursery, and serving as secretary for Candlelight Baptist Church.

Caring for and helping people was Jaida's goal. She had hopes of becoming an Oncology Nurse. Jaida completed high school and continued her education at Delta College in pursuit of her aspiration to be a nurse. Unfortunately, she was unable to continue due to her battle. This did not stop her from having hope as she thought she could take care of herself and went about trying to do just that. By watching the nurses give her treatments Jaida felt she knew enough about medicine that she was able to just go into the hospital and do what the nurses did. She lived by the words "I can do all things through Christ who strengthens me."

Jaida Marie leaves to cherish her memory two wonderful sons, Jayce Rasean and Zaiden Shaikier Evans; parents, Ahmad (Sharon) Clemons and Anitra (Avery) Frazier; two brothers, Justyce Jiles and Tristan Clemons; three sisters, Tahlor , Michaela and Amariah Clemons; grandparents, Jim (Helen) Jiles, Masker Sr. ( Lois) Clemons; two aunts, Alisha (Tony) Morgan and Chanel Clemons; five uncles, Patrick Dyson, Cottrell (Sirberina) Jiles, Jimmie (Stacy) Jiles, Anthony Jiles, and Masker Jr. (Tammy) Clemons.; a very special niece Londyn LaDrene Jiles; godparents, Pastor Johnny & Barbara Jackson; five special friends, Taylor Robinson, Nathaniel Riley, Zechariah Evans, Gabe Turner, Fredrianna McCaskey; special cousins, Donna Sullivan, Ameena Mahmud-Bey, Precious McCullogh, and Marviana Morgan. Jaida also leaves a host of great uncles, aunts, cousins, friends, and her Candlelight Church family to cherish her memory.

Jaida was preceded in death by her cousin Lorenzo Jiles; great-aunt, Idella White; great-grandmothers Lillian Simmons, Rebecca Clemons; and Godmother, Johnetta Wilson.

The family wishes to extend a special thanks to Hartland Hospice Care, Covenant Seventh Floor Oncology & CCU, Dr. Nizar Tannir, MD, Anderson Hospital, Houston, Texas, Nurse Nicole Schmitt, Social Worker Sue, CNA Sabrina Coburn, Nurse Zach, Chaplin Don and MIVR Pharmacy.



Previous Events
Visitation
Paradise Funeral Chapel
3100 South Washington Ave.
Saginaw, Michigan 48601
Celebration of Life
Candlelight Missionary Baptist Church
3305 Ruckle Street
Saginaw, Michigan 48601
Presiding, Host Pastor Willie Mills, Officiating, Prophet Andreas Parsley-Williams, Sr.
Cemetery Details
Location
Floral Gardens Cemetery
2215 Cass Avenue
Bay City, Michigan 48708