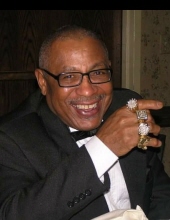 Obituary for Albert "Bull" Brewer (Lansing)
Albert "Bull" Brewer passed away on Tuesday, July 3, 2018 at Sparrow Hospital in Lansing, Michigan with his family by his side. Age 72 years. He was born March 22, 1946 in Clarksville, Tennessee to Mitchell and Ora Lee Brewer.

Albert, affectionately known as "Bull" was the life of the family. He kept us laughing. One of Bull's favorite sayings was, "You know what I am talking about!" He also had a favorite quote for his cousins in Tennessee, "Y'all ain't nothing but a bunch of farm boys!" Bull worked at Motor Wheel in his early years in Lansing as well as a few other factory jobs. He served two years in the U.S. Army from May 1967 through May 1969. Bull was honorably discharged for his service to the Army. After he retired, Bull began his own lawn care and snow removal business. Albert knew the Lord and served Him as a faithful member of the Morning Star Church of God in Christ. There he praised God with his tambourine, singing and clapping.

Mourning the loss of this precious jewel are his children, Albert Handsome, Stasha Littlejohn and Michael (Nina) Lawrence all of Lansing, Michigan; three grandchildren; one sister, Juanita Gold, Clarksville, Tennessee; four brothers, Mitchell (Georgia Mae) Brewer, Frank Brewer and Oliver Brewer all of Clarksville, Tennessee, and Kenneth "Blue" (special sister-in-law, Jackie) Brewer, Lansing, Michigan; sister-in-law Penny Brewer, Lansing, Michigan; many nieces, nephews, family and friends including special friend, Darla David; all who loved him dearly.

He was preceded in death by his parents, two brothers, Andrew Brewer and Lee Brewer; and his sister, Bernice Brewer.
Previous Events
Family Hour
Paradise Funeral Chapel - Lansing
1107 East Miller Road
Lansing, Michigan 48911
Funeral Service
Paradise Funeral Chapel - Lansing
1107 East Miller Road
Lansing, Michigan 48911