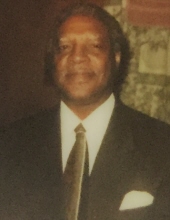 Obituary for Henry Oscar Feagin, Sr.
Henry Oscar Feagin, Sr. was born October 23, 1942 in Union Springs, Alabama to Jimmy Feagin and Lugene Williams. At the young age of thirteen, he moved with his family to Saginaw, Michigan. He completed his education here and went on to become employed with General Motors Corporation, UAW Local 668, where he worked for twenty-seven and a half years before retiring. Henry was a faithful member of Greater Renaissance Baptist Church and a dedicated member of its male chorus. He loved to sing and listen to quartet music, the Canton Spirituals being his favorite group. He also enjoyed playing cards and watching westerns. Nothing brought him greater joy than spending time with his family, especially his grandchildren. Henry was a donor to the Gift of Life Program. A very generous and loving man is how he will be remembered. A man of character and integrity is how he will be honored. "A good name is rather to be chosen than great riches, and loving favour rather than silver and gold." Henry's name and memory will always be good and respected.

On Tuesday, July 3, 2018, Henry went to sing in the heavenly choir, joining his parents, Jimmy Feagin, Lugene and Walter Williams; sisters, Essie Underwood, Norma Lucas, Sarah (Arthur) Youngblood, Mae (John Lee) Harris; brothers, James Feagin, Jessie Garner, Earl Feagin; grandson, De'Michael Mills; and sister-in-law, Vivian Feagin.

Henry leaves to celebrate his life daughter, Shaquarra Olice Askew-Feagin; two sons, Henry Oscar, Jr. and Lamar Anthony Feagin; grandchildren, Allen (Kim) Brown, Gloria Feagin, Jeremy Feagin, Tredell Feagin, Cicely Feagin, Natalie Feagin, Jermaine Feagin, Aaron Feagin, Lamar Reynolds, Ro'Shun Rosas, special grandchildren La'shika (William) Feagin-Etheridge and Eric LaVonn Frazier, Jr.; great-grandchildren, Da'Jahane Franlin, Jakari Franklin, Aquarius Franklin, Queen Franklin and many others; one sisters, Lula McClendon; two brothers, Johnnie (Betty) Williams, Will Feagin; one sister-in-law, Fronnie Garner; a host of nieces, nephews, other relatives and friends including Mary Amos, Margaret Brown, Johnnie Mae Burt, Pearl McDaniel, Priscilla Franklin, Boston Wells, J.C. Davenport, mother of his sons, Gloria Feagin, and special friend and caregiver, Carrie Askew.

The family would like to express a special thank you to Covenant Hospital, Fresenius (Riverside) Dialysis Center, Dr. John Vargas, Dr. M. Atri and Ivan E. Phillips and the Staff of Paradise Funeral Chapel.



Previous Events
Visitation
Paradise Funeral Chapel
3100 South Washington Ave.
Saginaw, Michigan 48601
Family Hour
Paradise Funeral Chapel
3100 South Washington Ave.
Saginaw, Michigan 48601
Celebration of Life
Paradise Funeral Chapel
3100 South Washington Ave.
Saginaw, Michigan 48601
Officiating: Pastor Cedric Cheatham
Cemetery Details
Location
Forest Lawn Cemetery
3210 South Washington Avenue
Saginaw, Michigan 48601