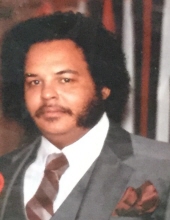 Obituary for Ambrose McGlory
Mr. Ambrose "Bruce" McGlory passed away Tuesday, June 26, 2018 at home, surrounded by his family. Bruce was born January 31, 1951 in Marksville, Louisiana to Archie and Lessie McGlory.

Bruce was a member of the UAW Local 659 at General Motors V-8 Engine Plant in Flint, Michigan where he retired from after thirty years of service. He was known for his sharp cowboy hats and boots and he enjoyed traveling and hanging out with his brothers-in-law.

Bruce leaves to cherish loving memories with his devoted wife, Ruth McGlory; mother, Lessie McGlory, Marksville, Louisiana; five stepchildren, Rudell, Ervin (Sheria), Frederick (Wilhemeina) Foster, Belinda (Ronnie) Buck, all of Saginaw, Michigan, and Skyler (Kennisha) Cohen, Las Vegas, Nevada; sister, Roxanne (Al) Martin, Marksville, Louisiana; four brothers, Roy, Jerry (Ramona), Roger (Jackie) McGlory, all of Marksville, Louisiana, Leonard McGlory, Houston, Texas; eight grandchildren, Aaron (Laura) Foster, Sophia (Velton) Williams, Micah Allen, Shericka Harper, Ervin Foster, Jr., Devonte Cohen, Denzel Buck, Porsche Foster; fifteen great-grandchildren; godchildren, Efrem and Beverly Owens, Oak Park, Michigan; sister-in-law, Catherine (Columbus) Clayton, Lansing, Michigan; four brothers-in-law, Isaac (Sherry), Isaiah (Colette), Jerome (Dawn) Weathers, Larry (Pat) Frierson, all of Saginaw, Michigan; a host of nieces, nephews, cousins and friends.

Bruce served God under the Catholic diocese of Saginaw and was preceded in death by his father, Archie McGlory; father-in-law, Ira Weathers, Sr.; mother-in-law, Marie Weathers; best friend and brother-in-law, Ira Weathers, Jr.; great-granddaughter, Cierra Williams.

The family would like to extend a special thanks to Bruce's caregivers, Ervin and Peaches Foster. Thank you.


Previous Events
Visitation
Paradise Funeral Chapel
3100 South Washington Ave.
Saginaw, Michigan 48601
Celebration of Life
Paradise Funeral Chapel
3100 South Washington Ave.
Saginaw, Michigan 48601