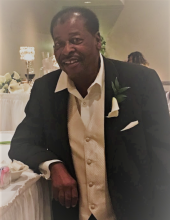 Obituary for Robert George
Robert Eugene George was born August 6, 1945 in Saginaw, Michigan to Myrtle and Essie George. He graduated from Arthur Hill Technical High School before becoming employed with the General Motors Corporation. He worked there for many years. Robert loved fishing. It was his passion. Robert also enjoyed cooking and thought himself as a Master Chef. But there was nothing he loved or enjoyed more than his family. His wife, his daughters and his grandchildren were his greatest joy. A lover of people, he never met a stranger. His charming smile and warm handshake made everyone feel like family. He will truly be missed and forever etched in the hearts and memory of his loved ones.

On Monday, June 25, 2018 Robert departed this life and joined his parents, Myrtle and Essie George; and brother-in-law, Ernest Phillips, who preceded him in death.

He leaves to celebrate his life wife, Shirley George; seven daughters, Deanna (Freddie) Clark, Sharon (Harvey) Beavers, Tamara George, Carmina Lee, Melissa (Darrell) Smithers, Quintana George, Jessica Jackson; one brother, John (Lynn) George; nine grandchildren, Jamar, Leequan, Brooklyn, Jasmin, Sy'Marianna, Kendrell, Kylee, Gwendalyn, Jayla; three great-grandchildren; three sisters-in-law, Bobby (Willie) Haynes, Margaret Phillips, Rosie Cotton; four brothers-in-law, William (Kristy) Phillips, Check (Vera) McGhee, Larry and Harry Phillips; nieces, Renee (Mark) Johnston, Zuleika (Aaron) Little; nephew, Renny Cotton; many other relatives and friends, including special cousins, Lorraine (Kinney) Bond, Juanita George, Gwen Bowman, Kim Coleman, and friends, Sam "Blue" Johnson, James Wicker, Doug Carter, Tommy Wicker and Bobby Glover.

The family appreciates the many kind expressions of love and concern extended to them during this time of bereavement. Our special thanks.




Previous Events
Drive-Thru Viewing
Paradise Funeral Chapel
3100 South Washington Ave.
Saginaw, Michigan 48601
Visitation
Paradise Funeral Chapel
3100 South Washington Ave.
Saginaw, Michigan 48601
Family Hour
Paradise Funeral Chapel
3100 South Washington Ave.
Saginaw, Michigan 48601
Celebration of Life
Paradise Funeral Chapel
3100 South Washington Ave.
Saginaw, Michigan 48601
Officiating: Bishop Harvey Beavers, Spiritual Israel Church - Ypsilanti Temple
Cemetery Details
Location
Forest Lawn Cemetery
3210 South Washington Avenue
Saginaw, Michigan 48601