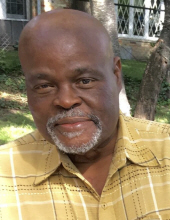 Obituary for Eddie M. Sims, Sr.
Mr. Eddie M. Sims, Sr. was born May 19, 1949 in Greenville, Mississippi to Rafe Sims, Sr. and Alberta Booker. He attended Coleman High School in Greenville, and at the age of eighteen, he moved to Saginaw, Michigan and graduated from Saginaw High School. He went on to be employed by the General Motors Corporation Grey Iron Foundry. He was a dedicated employee for over thirty years before retiring. Eddie was a committed union member of UAW Local 668 and was a committee man at work. He was an avid sports enthusiast, but he enjoyed local high school sports the most. He was a staunch supporter of local high school football and basketball games. A humble, meek man, Eddie enjoyed being home with his family and spending time with his grandkids. He may have been a man of few words, but when he did speak, others would listen. His words were always powerful and profound. Eddie was a good man, a family man and a man of God. He loved the Lord with all his heart, all his mind, all his soul and all his strength.

On June 25, 2018, Eddie went home to be with his Heavenly Father. He was preceded in death by his parents, Rafe Sims, Sr. and Alberta Booker; son, Lee Harris; grandson, Eddie M. Sims, III; sisters, Betty O'Neal, Chatherine Sims, Margie Booker; and brother, Lee Chester, Sr.

He leaves to celebrate his life his loving wife of forty-four years, Lois Sims; two sons, Eddie M. Jr. and Montrel Sims; five grandchildren, Latrice LaShay, Ebony Jean, I'esha Carolina, D'easia De'mya, Edrin Sylvester Sims; sisters, Headistine (Willie) Blakes, Beulah Tucker, Jackie L. Smith, Shirley (Curtis) Locts, Elizabeth (Author) Campbell, Laverne White; brothers, Rafe Sims, Jr., L.C. (Nelsene) Molett, Charlie (Robin) Tisdale, Charlie Rogers; two sisters-in-law, Joyce Parham, Annie Randall; one brother-in-law, Louis Baber; many other relatives and friends, including cousin, Zadie Tisdale, special friends Leon Pritchett, Bobby Harrison, Hubert Williams, Curtis Anderson, Robert King, Larry Thompson, Master Clemons, Bobby Shaw, Daniel Voltz, Norm Phumd, Dr. Byron C. Hayes, Calvin Tisdale, Charlie (Margaret) Tisdale.

The family would like to thank the doctors and staff of Covenant Healthcare-Cooper and Ivan E. Phillips and the Staff of Paradise Funeral Chapel.



Previous Events
Visitation
Paradise Funeral Chapel
3100 South Washington Ave.
Saginaw, Michigan 48601
Family Hour
Paradise Funeral Chapel
3100 South Washington Ave.
Saginaw, Michigan 48601
Celebration of Life
Paradise Funeral Chapel
3100 South Washington Ave.
Saginaw, Michigan 48601
Cemetery Details
Location
Forest Lawn Cemetery
3210 South Washington Avenue
Saginaw, Michigan 48601