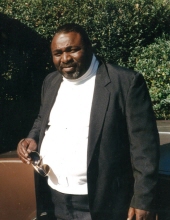 Obituary for Curtis Lee McCatrey (Lansing)
Mr. Curtis Lee McCatrey passed away Thursday, June 7, 2018 at Sparrow Hospital in Lansing, Michigan. Age 70 years. He was born on June 14th of 1947 in Osceola, Arkansas. The son of Willie McCatrey and Ruby Lee Williams.

Curtis worked in the fields as a child. In 1968, he moved to Lansing, Michigan where he worked at Motor Wheel and Oldsmobile. He was married 3 times and from these unions came his children. Curtis' last marriage was to the love of his life, Sharon "Suga Momma" McCatrey and they stayed married until her passing in 2016. He loved fishing and his family. A loving father and grandfather, he was affectionately known as "Paw-Paw" to his grandchildren. Curtis was a comedian in his own right, always ready to make everyone laugh whenever he entered a room. His humor and laughter will definitely be missed but we are comforted in the thought that his is reunited with his parents, son, siblings, and his "Suga Momma".

He leaves to cherish his loving memory 6 sons, Curtis (Diane) Lee McCatrey Jr, Tony (Gloria) McCatrey, Steve McCatrey, Allen Logan, Marlen Eskew and Willie Eskew; 1 daughter, Sha-Londa (Martese) Logan; several grandchildren and great grandchildren; 2 sisters, Ruth Ann McCatrey and Poverlene McCatrey both of Lansing, Michigan; uncle, Elder Carl Moore, Sacramento, California; 2 sister-in-laws, Patricia (Thomas) Woods and Bernadette (Morris) Lewis; many nieces, nephews, other relatives and friends including special friends, Barry (Theresa) Carter, James Dillworth. and Lewis (Susie) Rogers.

He was preceded in death by his parents; wife, Sharon; son, Antonio Trice; brothers, Burthel "Peter" McCatrey and Roy Williams, Jr.; sisters, Opherine Morris, Etoy Davis and Willie "Murl" Harden.
Previous Events
Visitation
Paradise Funeral Chapel - Lansing
1107 East Miller Road
Lansing, Michigan 48911
Funeral Service
Galilee Baptist Church
2511 Reo Road
Lansing, Michigan 48911
Pastor Paul Garrett, Officiating