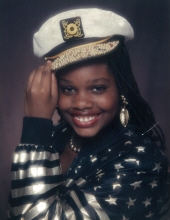 Obituary for Tiffany Ann Glasscoe (Lansing)
Tiffany Glasscoe passed away on Sunday, June 3, 2018 at her residence in Lansing, Michigan. Age 36 years. She was born February 18, 1982 in Lansing, Michigan to parents, Suzette McElrath and Marion Glasscoe.

Tiffany resided in Lansing all of her life. At age 16, she was diagnosed with cancer. Tiffany never gave up her goals especially graduating with her high school diploma. She was determined to be like all other students who completed high school. Tiffany graduated from Everett High School three years behind her original class. Her goal was completed!!! She also worked at Sparrow Hospital during her high school years as a salad bar prep worker.

She was soft spoken and helped those around her to the best of her ability. Tiffany enjoyed fixing breakfast for her 96-year-old grandmother, with whom she had a special bond. Though she had a lifelong struggle with her illness, Tiffany never complained or gave up on what she wanted to do. Her career goal was to be a fashion designer. While a teenager, she created a fashion portfolio. In memory of Tiffany, her family will patent her fashion designs.

Tiffany was a faithful member of Church Without Walls 24/7 Restoration Ministry under the leadership of Apostle Patricia Hart. She loved her family; she loved to draw, read her Bible and dance for the Lord. Tiffany's favorite saying was, "All is well."

She leaves to cherish her memory, loving parents, Suzette McElrath and Marion Glasscoe both of Lansing, Michigan; two brothers, Donyel Randolph, Willoughby Hills, Ohio and Antwon (Amy) Randolph, Lansing, Michigan; step-sister, Ciara (Ashton) Davis, Lansing, Michigan; step-brother, Demetrius Roberts, Philadelphia, Pennsylvania; three aunts, Alfreda Glasscoe, Debra (Harold) Peters and Jackie Carter all of Lansing, Michigan; seven uncles, Joseph (Lucille) Randolph, Benton Harbor, Michigan, Clayton (Nancy) Glasscoe, Chicago, Illinois, Eddie Glasscoe, Michael (Toni) Glasscoe, Arthur (Toni) Glasscoe, Calvin Randolph and Marcus Glasscoe all of Lansing, Michigan; many nieces, nephews, cousins, other relatives and friends.

She was preceded in death by grandparents, Arthur and Aldenease Glasscoe, Calvin, Sr. and Mary Randolph; three aunts, Flora Hayes, Brenda Glasscoe and Nillie Raine; and uncle, Larry Glasscoe.
Previous Events
Family Hour
New Mt. Calvary Baptist Church
3800 Miller Road
Lansing, Michigan 48911
Funeral Service
New Mt. Calvary Baptist Church
3800 Miller Road
Lansing, Michigan 48911