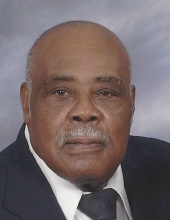 Obituary for Eddie L. Peoples
Mr. Eddie Lee Peoples Sr. made his transition Sunday, May 13, 2018 at Aleda E. Lutz Veterans Administration Hospital at the age of 90 years. He was born on April 17, 1928 in Naples, Texas to Horace and Harriet Peoples.

Eddie Sr. was a resident of Saginaw, Michigan. He accepted Christ at an early age and was a longtime member of St. Paul Baptist Church. Eddie Sr. served his country in the United States Army, earning a WW II Victory Medal and Honorable Discharge. Following his military service, Eddie was a dedicated worker for General Motors at Nodular Iron, and committee man, with UAW Local 668 for thirty years. Previously, he was employed as a truck driver for Fame Cleaners and Nicodemus Oil Company. Eddie was a dedicated member of Ralph Bunche Free & Accepted Masons King James Lodge # 109 for twenty years. He was also a member of VFW Post 9931. Eddie will be missed by family and friends. .

Eddie Sr. leaves his loving wife, Bessie Peoples, to cherish his memories; he and Bessie were together for 58 years and married for 47; two sons, Eddie L. Peoples Jr. (Tomieka) and Lester Peoples; four stepchildren, Cassie Clifton, of Saginaw, Michigan, Aubrey Clifton(Alice) of Georgia, Diane Cody and Tara Peevey, both of Houston, Texas; numerous grandchildren including Al Jones, Tyrone Dent (Gabrilelle) , Stephanie Reed (Bryant), Eddie L. Peoples III, Me'A Peoples, Ke'Ontea Price, Ta'Teiona Lipsey, Kimberly Green, Kejuan Ross, Maurice Acoff and Vernice Acoff; great-grandchildren, Jadah Myers, Laliah Thomas, Breont Reed, Paris and Lalia Peoples, Jher'Nei Lipsey, and many more; many nieces and nephews; four sisters-in-law, Sara Young, Barbara Jackson, both of Saginaw, Michigan, Samearl Johnson, Bloomington, Minnesota, and Edith O'Daniel, Detroit, Michigan; two brothers-in-law, Clinzo (Lessie) O'Daniel, Saginaw Michigan, and Caleb Tyson, Chicago, Illinois; many other relatives and friends; special daughter-in-law, Tomieka, and very special niece, Vickey Tyson; special friends, Roy McBride, John Burnell and Nathaniel Cole.

Eddie Sr. was preceded in death by his parents, Horace and Harriet Peoples; brother, Pete Peoples, daughter, Sandra Jones; stepson and daughter-in-law, William "Rock" (Karon) Clifton; brother-in-law, Norman O'Daniel, sister-in-law, Delois Tyson; two cousins, Lessibe B. Peoples and W. C. "Jitty Bug" Trailer; three brothers-in-law and two sisters-in-law.

The family would like to express special thanks to Covenant HealthCare and Veterans Palliative Care.
Previous Events
Visitation
Paradise Funeral Chapel
3100 South Washington Ave.
Saginaw, Michigan 48601
Family Hour
Paradise Funeral Chapel
3100 South Washington Ave.
Saginaw, Michigan 48601
Celebration of Life
St. Paul Missionary Baptist Church
120 North 15th Street
Saginaw, Michigan 48601
Pastor Dr. Vincent D. McMillon
Cemetery Details
Location
Forest Lawn Cemetery
3210 South Washington Avenue
Saginaw, Michigan 48601