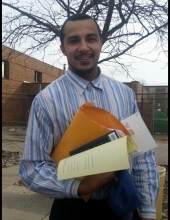 Obituary for Lawrence McDonald (Lansing)
Lawrence McDonald, Jr. died on Wednesday, May 9, 2018 at Sparrow Hospital in Lansing, Michigan. He was born February 22, 1991 to parents, Jenneffer Robinson and Travis Patterson in Lansing, Michigan.

Lawrence was a life long resident of Lansing, Michigan. He graduated from Eastern High School where he played on the men's basketball team. He has several newspaper articles about his basketball skills. Lawrence and his brother, Jovan played in Gus Macker tournaments. He also attended Lansing Community College and worked in the industrial industry. Lawrence accepted Jesus Christ at a young age and baptized at age 17. He loved spending time with his children and family. He will be remembered by his beautiful smile and kind heart.

He leaves to cherish his memory, eight children, Lawrence Patterson, Jr., Lawrencia Patterson, Lawriyah Patterson, Damarion McDonald, Audrey Lewis McDonald, Lyric Lewis McDonald, Lawrielle McDonald and Zavonie Westen; parents, Jenneffer Robinson and Travis Patterson; three sisters, Shaniqua Baker, Nhiema Robinson, and Lanaya Robinson; three brothers, Jovan Jordan Robinson, Sr., Lenar Beasley, Sr. and Dante Robinson, Sr.; niece, Aniya Robinson; three nephews, Jovan Robinson, Jr., Dante Robinson, Jr. and Lenar Beasley, Jr.; two aunts, Renethia Smith and LaQuita Patterson; great aunt, Mary Sturdivant; three uncles, Corey (Mary) Robinson, Erin Hawkins and Shawn Seadorf; cousins including special cousins, Corey and Rudy Robinson; many other relatives and friends including special friends, Keto Beachnau, Dellesia and Dezell Jones, Love Gordon and Street Rider Family.

He was preceded in death by his grandparents, Preston Edward Robinson, Betty and Israel Patterson; great grandmother, Bessie Allen; sister, Ciarra Patterson and aunt, Chanda Patterson.
Previous Events
Memorial Service
Jesus of Nazareth Church of God in Christ
4331 Sycamore Street
Holt, MI 48842
Prophetess Laquita Patterson, Officiating