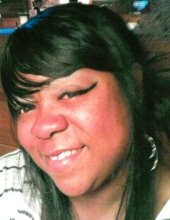 Obituary for Karmen Sharall Montgomery
On Friday, May 4, 2018, our beloved Angel, Karmen Montgomery, was presented with her heavenly wings and ascended into Heaven. Her parents were anxiously awaiting her arrival.

Karmen was born November 29, 1980, in Saginaw, Michigan, to Lee Montgomery and Peggy Young. She attended Saginaw Public Schools and graduated from Saginaw High School, "Class of 1999." She was a member of the Saginaw High Soul Choir and played on the Saginaw High Softball Team. Her classmates fondly remember her as a leader and someone with a unique, unabashed and unfiltered personality. Ms. Montgomery was a member of the Honey Bees, an organization she connected with as an adult. Karmen enjoyed cooking for her family and displaying her famous dishes on Facebook. But more than cooking, she enjoyed sending notes of encouragement to her relatives and friends. Although Karmen was only with us for 37 short years, those years were full of life and love.

Ms. Montgomery leaves to cherish her memory, three aunts, Mary L. Young, Retha Young, Darlene Byrd-Young; three great-aunts, Emma Laird, Bobbie Riley, Marilyn Riley; five uncles, Carl, Edward, Richard, and Kilp Young, Anthony Knight; ten cousins, NeKisha, Javanese, Shaquonda, Lando, Darrell, Ashley, Richard III, Kilp Jr., Allyssa, Mnyeshia; many other relatives, friends and loved ones.

Ms. Montgomery was preceded in death by her father, Lee Montgomery; mother, Peggy Young; grandparents, Charlie and Louise Young; uncle, Larry Young; cousins, Larry LaMarkus Byrd, Richard Riley Jr.

The family would like to express special thanks to Mr. Ivan E. Phillips and the staff at Paradise Funeral Chapel for their patience, compassion and service during our bereavement.
Previous Events
Visitation
Paradise Funeral Chapel
3100 South Washington Ave.
Saginaw, Michigan 48601
Celebration of Life
Paradise Funeral Chapel
3100 South Washington Ave.
Saginaw, Michigan 48601
Officiating: Reverend Alvin Henix, New Beginning Christian Baptist Church