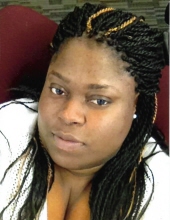 Obituary for Tanisha Sharesses Conley
Tanisha Sharesses Conley, lovingly called "Reesie" by her family, friends, and classmates, was called home to be with our Lord on Friday, May 4, 2018. Age 36 years. She was born on September 5, 1981 in Saginaw, Michigan to Jackie Rembert and Rosetta Smith.

Ms. Conley was raised in Saginaw, Michigan and attended Saginaw Public Schools. She was a Central Middle Cougar and a Mighty Trojan of Saginaw High School, graduating with the "Class of 2000." Tanisha went on to pursue higher education at Eastern Michigan University, graduating from there with her Bachelor of Science Degree. She was formerly employed with MDP in Atlanta, Georgia, as the Executive Assistant to Grammy award-winning singer Monica Brown. From then until her passing, she was employed by PSCU in Allen Park, Michigan. Her greatest accomplishment was becoming an entrepreneur. Ms. Conley was the CEO and Founder of TSC Agency LLC and Plus Size Rocks. She created and patented plus size emojis, and had a deal with Apple iTunes for sale of those emojis. Yes, Reesie was a Boss!

Ms. Conley leaves to cherish her beloved memory: mother, Rosetta Smith, Belleville, Michigan; grandmother, Jesse B. Rembert, Saginaw, Michigan; two sisters, Tawanna Williams, Winston Salem, North Carolina, Venus Smith, Saginaw, Michigan; five brothers, Armond (Candase) Conley, Deqendow Conley, Terry Donald, Tard (Fontella) Smith, Adrian Smith, all of Saginaw, Michigan; one niece, Destiny Williams; seven nephews, Armond Conley, Jr., DaQuan Conley, Terrance Johnson, Terry Donald Jr., Jaquan Williams, all of Saginaw, Michigan, Detayveon and D'Michieal Williams of Winston Salem, North Carolina; two aunts, Vonnie Williams, Columbia, Tennessee, Colette McQueen, Findlay, Ohio; five uncles, Tom (Jackie) Rembert Jr., Terry Rembert, both of Saginaw, Michigan, James (Brenda) Rembert, Grand Rapids, Michigan, Victor (Cynthia) Rembert, Morrisville, North Carolina, Robert (Cynthia) Rembert, Defiance, Ohio; one sister-in-law, Candase Barker; a host of relatives, friends and loved ones.

Ms. Conley was preceded in death by her father, Jackie Rembert; stepfather, Andy Smith; sister, Jacqueline Williams; uncles, Arlee Williams and Ray Smith; aunt, Pamela Rembert; grandparents, Cornelius and Mary Haynes, and Tom Rembert, Sr.

The family would like to express special thanks to PSCU in Allen Park, Michigan, and everyone for your calls, cards, thoughts and prayers. Your kindness and comfort means more to us than words can express.
Previous Events
Visitation
Paradise Funeral Chapel
3100 South Washington Ave.
Saginaw, Michigan 48601
Celebration of Life
Paradise Funeral Chapel
3100 South Washington Ave.
Saginaw, Michigan 48601
Officiating: Pastor Walter McCall, House of Prayer Baptist Church