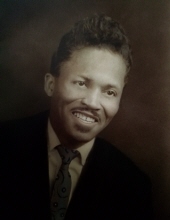 Obituary for Hodges Haynes
Mr. Hodges Haynes passed away on Tuesday, April 10, 2018 at James E. Cartwright Care Center. Age 90 years. He was born on June 1, 1927 in Louisville, Mississippi to Henry Haynes and Mary Lee Hannah.

Mr. Haynes was a resident of Saginaw, Michigan. He was a longtime member of Bethel AME Church. Hodges was a retiree of General Motors (Truck & Bus) in Flint, Michigan, and was affiliated with UAW Local 598.

Hodges enjoyed old cars, fishing, watching wrestling, traveling, gardening, building houses and helping others. Most of all, he loved spending time with his family. Hodges was always smiling and very upbeat. He loved listening to gospel and the blues, and he was an advocate for self-education. An independent man, Hodges believed "if a man don't work, a man don't eat," and that a woman should carry herself as a "lady." Hodges will be missed by family and friends.

He leaves to cherish loving memories his wife, Josephine Haynes; one daughter, Brenda Allen; one son, Harold (Bari) Haynes; two stepchildren, Jacqueline Kelly-Smith and Tracie Haynes; grandchildren, Clareeta White, Vincent (Carmita) Haynes, Tamitra (Andre) Mitchell, Travona Haynes, Vonshea Chapman, Shawn (Talise)Wesley, Andre McKnight, Pharis Smith and Amanda Rand; twenty-five great-grandchildren; special great-granddaughter, Abriana White; nine great-great-grandchildren; ten brothers, Wilkie (Johnnie Mae) Haynes, Iva D. Haynes, Spiva (Betty) Haynes, Reverend Manuel (Sudie) Haynes; many nieces, great nieces, nephews, great-nephews and cousins, six sisters-in-law, Yarbra Copeland, Dorothy Burns, Ida Haynes, Elsie Haynes, May Haynes and Deloris Colvin; many other relatives and friends; special friends, Abraham White, and Mark Blakely.

Mr. Haynes was preceded in death by his parents, Henry Haynes and Mary Lee Hannah; sister, Dorothy Dawkins; brothers, Henry, Beafus, Docinal, Warner, Theainal and William Haynes; stepdaughter, Aquanetta McKnight; stepson, Warren Wesley.

The family would like to express special thanks to the staff at Cartwright Hospice, Hoyt Nursing Home, and Saginaw Geriatrics.
Previous Events
Visitation
Bethel AME Church
535 Cathay Street
Saginaw, Michigan 48601
Family Hour
Bethel AME Church
535 Cathay Street
Saginaw, Michigan 48601
Celebration of Life
Bethel AME Church
535 Cathay Street
Saginaw, Michigan 48601
Officiating: Pastor Dennis Laffoon
Cemetery Details
Location
Eastlawn Memorial Gardens & Mausoleum
7475 E Holland Rd
Saginaw, Michigan 48601