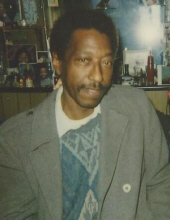 Obituary for Ish Sangster, Jr.
Our beloved father, grandfather, great-grandfather, brother, uncle, cousin and friend, Ish Sangster, Jr., transitioned on Friday, March 23, 2018 the age of 76 years. He was the son of the late Millie (Neuben) and Ish Sangster, Sr. Ish Jr. was born on June 23, 1941 in Saginaw, Michigan where he grew up and lived out his life.

Ish was a graduate of Saginaw High School, "Class of 1959." He was a member of Freedom Full Gospel Baptist Church under the leadership of Pastor Eddie L. Bragg. In his early years, Ish was employed by General Motors (Chevrolet Grey Iron Foundry) in Saginaw, Michigan, and was affiliated with UAW Local 668. He later became a self-employed carpenter and business owner. Ish was a natural master of his craft. He attended Delta College where he pursued a degree in carpentry. Everyone who knew Ish knew he loved his family, jazz music, playing musical spoons, and working with his hands. He was very artistic and could create anything sight unseen. Ish was a kind person with a huge heart and he gave unselfishly. He embodied the spirit of love, compassion and understanding.

He leaves to cherish loving memories one daughter, Monica Sangster-Henley, Southfield, Michigan; one son, Marcus Sangster, Tampa, Florida; one step-daughter, Valli Sangster, Southfield, Michigan; grandchildren, Nadia, Asia and Jaya Sangster, all of Southfield, Michigan; great-grandchildren, Brielynn and Brayden Sangster; one brother, Ollie Sangster; many nieces, nephews, cousins other relatives and friends including Saundra Sangster, Carl Burks, Claude L. Macon and Leanna Brown.

Ish Jr. was preceded in death by his parents, Ish Sr. (Millie) Sangster; sisters, Percy T. Davis and Betty L. Shakir; brother, Freddie Sangster; niece, Shelly Sangster; great-nephew, Demetrice Ferguson and son-in-law, Kenneth Henley.
Previous Events
Visitation
Paradise Funeral Chapel
3100 South Washington Ave.
Saginaw, Michigan 48601
Family Hour
Paradise Funeral Chapel
3100 South Washington Ave.
Saginaw, Michigan 48601
Celebration of Life
Paradise Funeral Chapel
3100 South Washington Ave.
Saginaw, Michigan 48601
Officiating: Pastor Alfred Harris, Jr., New Mt. Calvary Missionary Baptist Church