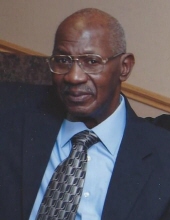 Obituary for Joe Wiley
Mr. Joe Frank Wiley passed away on Thursday, February 8, 2018 at his residence. Age 77 years. He was born on October 20, 1940 in Fort Deposit, Alabama to Dan and Willie Mae Wiley.

Joe moved to Saginaw, Michigan in 1965 and was employed by General Motors (Saginaw Malleable Iron Foundry). He retired in 1997 after 36.3 years of service. Joe was also a member of UAW Local 455. He loved to cook and socialize with family and friends and play cards (1500 and Coon). Joe always gave a listening ear and a helping hand to those in need. His kind and generous spirit will be missed by all.

Mr. Wiley leaves to cherish his memory two daughters Wanda Coffield and Stacey (Nathiel) Jones, Newburgh, New York; one son, Harvey Lawhorn, Minneapolis, Minnesota; his loving companion, Annie Coleman; "special" children, Calvin (Vivian) Williams, Mechelle Williams, Glenda Kelly, Tina Arnold, Antoinette Bland, Therese (Dion) Bland, Michelle Ezell, James Lane, and Robert Bowens, all of Saginaw, Michigan; Cassandra Williams, Pensacola, Florida; grandchildren, Natasha Jackson, Maranda Wiley, Jade and Tyrige Beamon, Anthony Grant, Jimmy Coffield, Bryson Wommack, Yolanda and Courtney Lawhorn; "special" grandsons, Mario Williams, Calvin Williams II; two sisters, Mae Simpson, Syracuse, New York, Mable Bedgood, Montgomery, Alabama; one brother, Walter M. Wiley, Phoenix City, Alabama; many other relatives and friends; special friend, Earl "Mike" Brooks.

Joe was preceded in death by his parents, Dan and Willie Mae Wiley; brothers, Dan II, Willie and John Wiley; sisters, Velma Jordan, Mary Porterfield and Lorene Wiley; son-in-law, Jimmy Coffield, and special son, Clifford Williams.

The family expresses special thanks to his healthcare providers, Sandra and Lloyd Coleman, and Lee Ann Balcueva.


Previous Events
Visitation
Spiritual Israel Church
120 South 5th Avenue
Saginaw, Michigan 48601
Celebration of Life
Spiritual Israel Church
120 South 5th Avenue
Saginaw, Michigan 48601
Officiating: Elder Joseph Grace