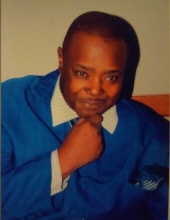 Obituary for Ben Love, Jr. (Lansing)
Deacon Ben Thomas Love, Jr. departed to be with the Lord on Sunday, January 28, 2018 at McLaren Hospital in Lansing, Michigan. That was the same day he celebrated 30 years of marriage to his loving and devoted wife, LaShon. He was born October 23, 1966 in Indianapolis, Indiana. The son of Ben Thomas, Sr. and Rachel Pearl Love.

Deacon Love moved to Flint, Michigan in 1967. He and his wife, LaShon recently celebrated their loving marriage for 30 years. Their marriage was joyous, blessed loving and devoted to one another. She was the love of his life! When you saw Ben, you saw Shon. He was a loving father of 3 girls and 2 boys. He relocated his family to Lansing, Michigan in 1998. Deacon Love was a wonderfully supportive and loving husband and father to his wife and kids. He was a loyal friend, great brother and loving cousin. Deacon Love was a great listener, very competitive, loved to fish, BBQ, sports especially his favorite basketball player, Kobe Bryant, spending time with his grandchildren especially since they listened to him when grown folks wouldn't. He was also a comedian who was very funny, yet serious. His favorite expressions were "Shut up Shon"; "Shon got it" whenever someone else tried to do something for him; and "one more thing, Hallelujah!". He would also wonder why his wife had a phone because she never answered when he called her on it. Just like everybody else! Deacon Love depended on his wife and would always call her name especially when she was busy. He had a deep and abiding love for Jesus Christ. He joined Greater Saint Joseph Tabernacle Church where he served as head Deacon, sat on the finance committee, was active with the church music, sounds and video systems and anywhere else he was needed. Deacon was faithful and dedicated to his church. He loved traveling with Bishop Futch Jr., First Lady Futch and family.

He leaves to cherish his memory his loving and devoted wife, LaShon; 3 daughters, LaShawn Love, Kenyana (Donavon) Crusoe and Rachel Love; son, Ben (Angelic) Love, V; 12 grandchildren, Aiyanna Love, Sha'Nyha Love, Lazarus Love, Illyana Love, Noel Love, Kelise Love, Aaliyah Love, Isabelle Love, Natalia Love, Kelina Love, Elisha Love, and Jalaha Love; 5 sisters, Beverly (Darnell) Hunter, Minister Jacqueline (Coy) Bridges, Lori (LaLa) Love, Kenya Love, all of Flint, Michigan, Barbara Love, Lansing, Michigan; 3 brothers, Thomas Lewis Love, Munford, Tennessee, Thomas (Petey) Love, Flint, Michigan, Erine Holland, Munford, Tennessee; other siblings, Cheryl Ann Love, Flint and Jeanette Holland, Munford, Tennessee; 3 aunts, Lina Hall, Pastor Barbara Bettis, both of Flint; Dorothy Wright, Indianapolis, Indiana; 4 uncles, Willie Ed Wright, Henry Love, Charles Wright and Jerry Wright; parents-in-law, James and Ella Marie McCow; 3 sisters-in-law, Mary (Clifton) Price, Labron, Georgia, Lena (Dawud) Majied, Flint, LaRon McCow, Lansing; 4 brothers-in-law, Jose Butler, Coy Bridges, Darnell Hunter and Michael McCow; Godsons, Eddie Bell and Adam Bradley; God-daughters, Jasmine Futch and LaShone Burton; many nieces, nephews, cousins, and friends including special friends, Bishop Joseph Futch, Jr., First Lady Gwen Futch, Elder Kevin Futch, Elder Curt Springer, Elder Robert Whitley, Elder Damon Futch, Elder Whitman Frye, Mother Charlene Crosby, Minister Joe Atkins, Missionary Rosemary Moore, Johnnie William, Anthony Moore, Delaney Stewart, Wallace Hall, and James Wright, Jr.

He was preceded in death by his parents, Ben and Rachel Love; son, Ben Thomas Love, IV; grandparents, Ben and Maggie (Aknels) Love, Katie Mae Wright; nephews, James El'Dreece Wright, Tony Love, Jr. and Antwan Love, Jr., mother-in-law, Ella Malone, and his sister-in-law, Tracy McCow.
Previous Events
Visitation
Paradise Funeral Chapel - Lansing
1107 East Miller Road
Lansing, Michigan 48911
Family Hour
Eliezer Temple Church
3637 West Jolly Road
Lansing, Michigan 48911
Funeral Service
Eliezer Temple Church
3637 West Jolly Road
Lansing, Michigan 48911
Bishop Joseph Futch, Jr.
Cemetery Details
Location
Forest Lawn Memorial Gardens
5301 N. Michigan Road
Dimondale, Michigan 48821