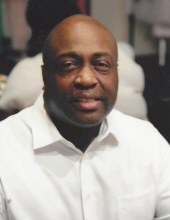 Obituary for Virgil Petty
On April 24, 1956 Virgil Petty was born to Bartow Marion Petty, Jr. and Marie Josephine Petty in the city of Saginaw, Michigan. Virgil spent his formative family years with his three siblings: Wayne, Rita, and Wendell. Some of his favorite childhood memories are of the times spent with his family on Sundays during services at St. Luke CME Church where his maternal grandfather, John Scott, served as an Associate Pastor. Much of that time was spent as a precocious young man with his first cousins, Michael Turner, Daniel Welch, and Gary Bond. Over the years Virgil built a reputation for being full of humor, joy, and loving terror called "Fun", which earned him the nickname of "Mad Dog".

Virgil spent his childhood in Saginaw, Michigan and was educated in the Buena Vista School District. As a young third grader, instead of learning his "abc's" he had his eye on young Sharon Elaine. While studying at Buena Vista High School he excelled in various sports but focused on his passion of football and basketball until he graduated in 1975. He later attended DeVry University, formally known as Ohio Institute of Technology in the city of Columbus, Ohio.

On July 14, 1977 Virgil officially joined himself in marriage to the girl he had been eyeing since the third grade, Sharon Elaine Maxey at his family church Mt. Olive Institutional Missionary Baptist Church in Saginaw, Michigan. Together their union brought forth four handsome sons.
Once Virgil's sons caught wind of his childhood nickname, they felt that his no-nonsense, tough-love approach to parenting warranted a reprise of "Mad Dog". Virgil was a family-oriented man who believed in supporting family-members. He and Sharon always left their doors open to support any family member who was in need, or focused on improving themselves. In their earlier years they resided in Saginaw, Michigan and eventually settled in West Bloomfield, Michigan. Virgil cherished his wife of 39 years. He loved his children and was devoted to them.

Virgil made his living working in the Information Technology (IT) field for several years. Part of his legacy was "Each One, Teach One" and he passionately shared his knowledge in the field with as many as he could to ensure they have a stable financial status. Through his journey, he established life-long friends with several people who have made a lasting impression.

Sadly, following a tragic car accident on the morning of January 20, 2018, Virgil made a peaceful transition surrounded by family and friends on the morning of January 25, 2018 only ten short days after his father's transition.

Mr. Virgil Petty leaves to cherish his life, memory, and legacy his wife: Sharon Elaine Petty; four Sons: Virgil Lamont, Cordney Trevelle (Angela), Bryan Raphael, and Aaron Scott; siblings: Wayne Petty and Rita Woods (Sherman); brother-in-law: Kevin Duane Maxey; four grandchildren: Cordney Trevelle, Jr., Janelle London, Zoe Shae; and Christopher Michael; aunts: Claire Turner (Ralph) and Millie Landrum; nieces and nephews: Kevin Maxey, Pharington Maxey (Shayla), Ryjean Maxey, Dominique Maxey, Wayne Petty, Eric Petty, Sherman Woods, Kendra Woods, Chianne Williams and Kashariee Bell; honorary sons: Jason and Jeremy Stephenson; special friends/family: Clinton D. Williams, Freddie Doxie, Darryl Ford, Johnny Grady, John Green, Clarence Hughes, Darryl Humphry, Bryan Phelps, Art Upshaw, Bryan Williams, Louis Wright, Margo O. Tyus, and his lifelong friends "BV 4 Life Class of 75"; a host of cousins, and other relatives.

He was preceded in death by his parents, Bartow and Marie Petty, and his brother, Wendell Petty.


Previous Events
Visitation
Paradise Funeral Chapel
3100 South Washington Ave.
Saginaw, Michigan 48601
Family Hour
Paradise Funeral Chapel
3100 South Washington Ave.
Saginaw, Michigan 48601
Celebration of Life
Paradise Funeral Chapel
3100 South Washington Ave.
Saginaw, Michigan 48601
Officiating: Pastor Ken Frierson