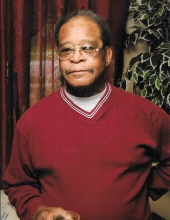 Obituary for Charles Jackson (Lansing)
Charles Andrew Jackson passed away Tuesday, January 23, 2018 at Sparrow Hospital in Lansing, Michigan. Age 81 years. He was born June 3, 1936 to Frank and Ruth Jackson in Tuckerman, Arkansas.

He was a man of honor who served his country. In April 1954 Charles joined the United States Air Force. After four years of service, he was honorably discharged.

Charles adored and cherished his family. He loved being with family as much as possible. He always took time out to participate in family celebrations and activities with his children, grandchildren and great grandchildren. He was a passionate man who loved the arts, jazz, reading and writing. He wrote his first book 35 years ago, and during his last days was in the process of writing a novel.

He taught and inspired others, and was big on education. He was very instrumental in inspiring his children and grandchildren to further their college education. In total, Charles earned 5 degrees, as follows: Associate in Arts-1959; Los Angeles City College, Bachelor of Arts in Philosophy-1963; University of California at Berkeley, Associate in Business-1992; Lansing Community College, Bachelor of Business Administration-1994; Davenport College, Master of Science in Administration-1997; Central Michigan University.

After completing his college degrees Charles worked for the Sate of Michigan Treasury Department. He retired after 33 years of dedicated service.

He leaves to cherish his memory his wife Alberstine Jackson; 3 daughters, Marsha Page, of Hot Springs, Arkansas, Arlita (Dexter) Smith, of Fontana, California, and Carla McClain, of Memphis, Tennessee; 4 sons, Lawrence Page, of Lansing, Michigan, Gerald Page, of Warner Robins, Georgia, Donald Page, of Hot Springs, Arkansas, and Timothy (Ina) Page, of Lansing, Michigan; Grandchildren, Lamont, Kamisha, and Jadon, all of Hot Springs, Arkansas, Fatisha, Paquarie, Tiffany, and Dwayne, all of Tennessee, Cleon, Chole', and Courtney, all of California, Isaiah and Sydney, both of Lansing, Michigan, Breanna, of Phoenix, Arizona, Shaneka, Rachada, Tashana, Tinisha and Rickia, all of Georgia; 21 great grandchildren; 2 great, great grandchildren; 2 brothers, Frank H. (Delois) Jackson, Jr., of Cordova, Tennessee and Allen M. (Dorothy) Jackson, of Haslett, Michigan; one sister, RosaLee Tuberville, of Hampton, Virginia; and many other relatives and friends, including Carolyn Avery, Bridgett Nelson, Eddie Mae Page, Myron & Deloris Freeman, and Samuel & Terry Johnson, Beverly Smith, Vanessa Page Willtop.

He was preceded in death by his parents, Frank and Ruth Jackson; sister, Velma L. Clay; brother, Fred H. Jackson; brother-in-law, James Tuberville; and grandson, Dexter Smith, Jr.

The family would like to express special thanks to Pastor H. Levi McClendon III, Elder Homer Lartique, Mt. Zion All Nation Bible Church, Pastor Terrance King and Kingdom Ministries, Emma Johnson, Dominique Houston, Cynthia King, Lorraine Brandon and Jennifer Watson.
Previous Events
Visitation
Paradise Funeral Chapel - Lansing
1107 East Miller Road
Lansing, Michigan 48911
Family Hour
Paradise Funeral Chapel - Lansing
1107 East Miller Road
Lansing, Michigan 48911
Funeral Service
Paradise Funeral Chapel - Lansing
1107 East Miller Road
Lansing, Michigan 48911